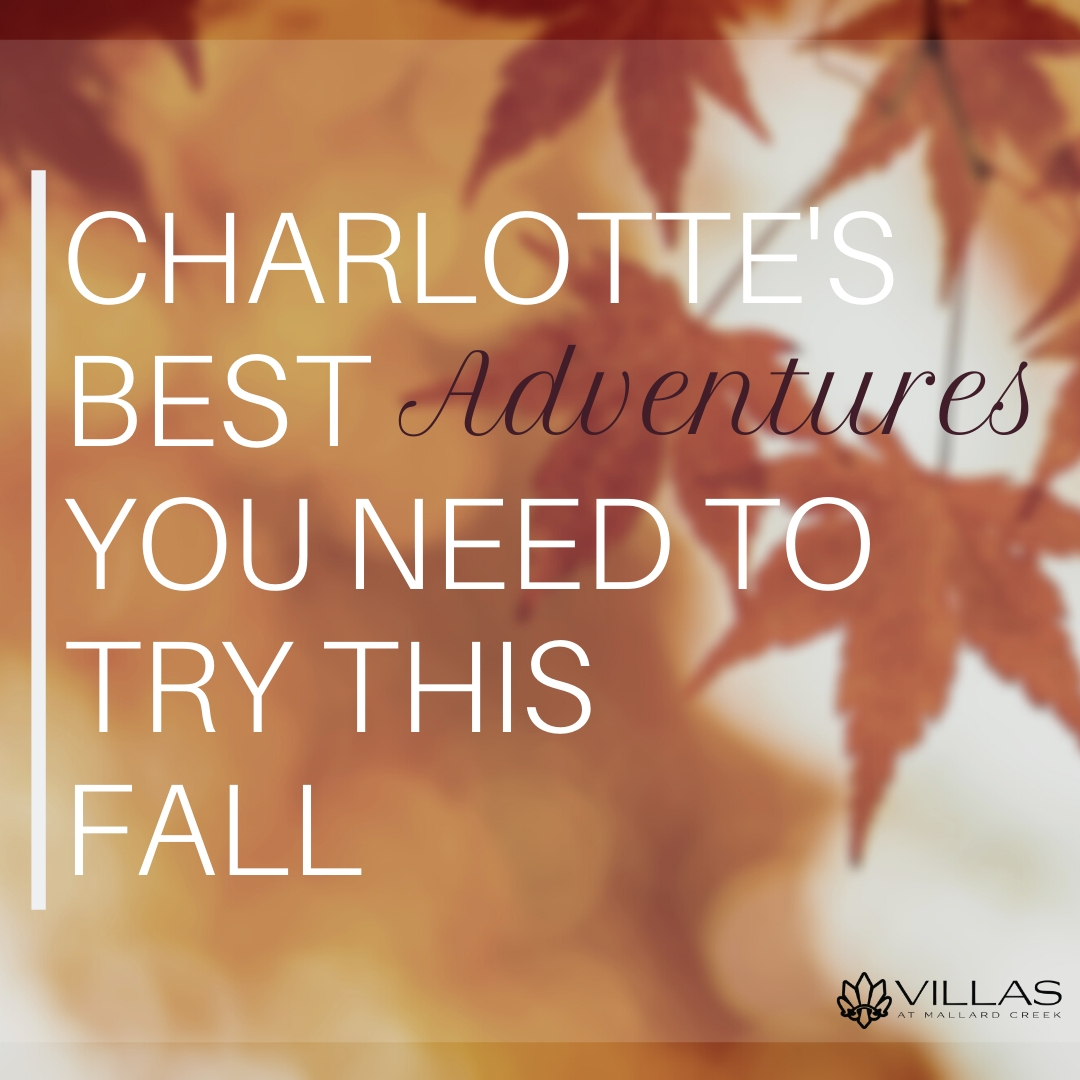 Before the winter weather sets in and puts you in hibernation mode, we recommend you get out of your Charlotte, NC apartments and go on a few more fall adventures. Even though Daylight Savings Time has it getting dark before dinner, you can still brave the brisk air and have some fun. Here are eight Charlotte adventures that will make this season your favorite.
If you are the dare-devil type, you could go zip-lining at the Whitewater Center:
The U.S. National Whitewater Center is on the southside of Charlotte, and it is a great destination for adrenaline junkies. During the cooler months, the river isn't running. However, you can still get your fun fix gliding down the ziplines or climbing through the trees on the ropes course.
As the weather continues to cool, they will start up a skating rink–a new attraction this year! Plus, when things get too chilly while you are out there playing, you can make your way to the River's Edge restaurant for a bite to eat and a glass of wine.
If you are the power-walker type, you could explore all of the new sections on the greenway:
The greenway has been expanding all over the city. Chances are there is at least a small part of it near your apartment. Fall is a great time to experience the greenway because you can walk long stretches without getting drenched in sweat!
Grab your favorite walking shoes and your reusable water bottle and you are all set. This is also a great adventure to have with your four-legged family member.
If you are a music-lover, you could play music bingo at one of the area breweries:
There are plenty of reasons to visit the many breweries in the Queen City. They are great places to hang out with your friends, grab a tasty bite to eat, and of course drink a few brews.
However, there is one more activity that may just drag you out of your Charlotte, NC apartment. Music Bingo! Check the schedules at the brewery nearest your place because music bingo makes the rounds nearly everywhere. Even the newest addition to the brewery scene, Middle James Brewing in Pineville is playing bingo at least once a week.
If you are a dessert-lover, you can do a taste-testing at Reigning Doughnuts:
Reigning Doughnuts in NoDa has become a Queen City classic even though it has only been around a little over a year. There are several flavors to enjoy everyday, and then there is the flavor of the day!
You could go several times in a single week and have a different taste-testing experience every time. The holiday season is when they start turning out interesting holiday flavors, so it is the perfect Fall adventure for the sweet tooth.
If you are a mystery-lover, you can attend a murder mystery show with the Dinner Detectives:
There. Is plenty of mayhem to go around at a Dinner Detectives show which takes place at the DoubleTree in South Park. Your ticket includes a four course meal and a whole lot of fun.
The show is rated PG-13, so the older kids in your family are welcome to join in the hunt for the killer. You will get to review the clues, interrogate the suspects, and he'll capture the nefarious murderer.
If you are a cocktail-lover, you can go on a bar crawl:
Getting out of your Charlotte apartment is easy when you have a full night of shenanigans planned. The Queen City loves a good bar crawl, and there are ones planned all the time. You can find the theme that works for you, or strike out on your own with a trolley pub ride.
There are Santa crawls, 90s crawls, and every other kind of crawl you can imagine. There seems to be a new one announced each week. Sign up for an Eventbrite newsletter, and you'll never miss those crazy events.
If you are a food-lover, you can watch a cooking competition:
The Whole Foods in South Park is full of delicious culinary treats, but on the third floor you can also find the Salud cooking school. There are plenty of classes that you can take to brush up on your skills in the kitchen, but if you would rather watch someone else work their magic instead, Sliced! May be more your style.
This competition puts two area chefs up head to head. They are tasked with creating an appetizer, main course, and a dessert using secret ingredients. You get to be the judge, just like a celebrity guest on a Food Network show!
As you can see, there are still plenty of adventures awaiting you outside our Charlotte, NC apartments. Fall is not the season for sitting at home and daydreaming about summer. And if you have to be in the market for a new home in the University area, be sure to check out our fabulous floor plans and amenities.