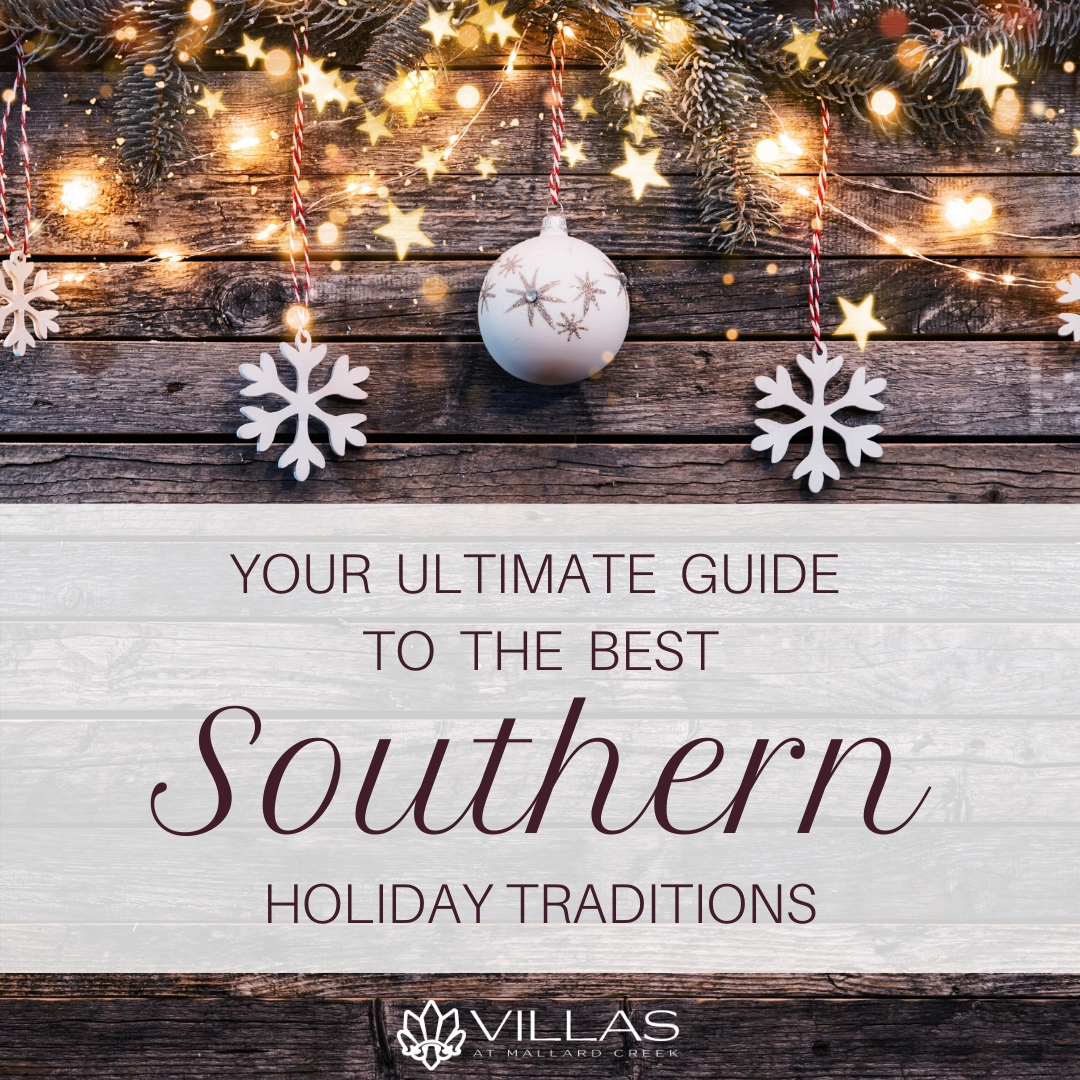 Doesn't it always seem like the holiday season starts earlier each year? We barely get the trick-or-treaters off the front porch before the Christmas tunes start blasting. The willingness to rush into the holiday season and start spreading tinsel around your apartment in Charlotte is probably due to the fact that there is just so much fun to be had during this time of year.
The holiday season is full of good times, good food, and good old-fashioned Southern holiday traditions!
In this ultimate guide, we will help you find the best way to celebrate the holidays. Dig in, and find your next favorite holiday tradition, right here.
Cooking with Cast Iron
A well-stocked Southern kitchen will always have a seasoned cast iron skillet or two… ready to pop on the stove or even in the oven. This versatile piece of cookery is the secret to many a recipe in the south, and it is actually possible to cook an entire Christmas meal using nothing but this not-so-humble skillet.
The benefits of cooking with cast iron are many. It holds the heat, gives the foods a delicious crust, and when well cared for, the cast iron skillet is as good as the nonstick options gracing the shelves of apartments in Charlotte. Plus, it looks wonderfully rustic when used as a serving dish.
If you've never used a cast iron skillet before, you will want to get in plenty of practice before the holiday season. Here are 50 recipes that use this Southern kitchen classic to build up your repertoire.
The Perfect Christmas Roast
While we are on the subject of cooking, you may want to consider your holiday meal-planning needs. If you will be hosting your friends and family, you will need the ideal Southern menu to wow them with. Nothing beats a delicious Christmas roast!
According to Southern Kitchen, the thing that will make or break your roast is the temperature of your oven. They suggest cooking your roast at 450 degrees for five minutes per pound and then leaving the meat in your hot oven for two hours to finish cooking. It is an interesting method, but they claim it makes the absolute perfect roast that your diners will never quit raving about. The kitchens at the Villas at Mallard Creek are well equipped to handle all your holiday cooking needs!
Shop Southern
Another great holiday tradition you can begin this year is shopping from local or Southern companies. Check off your gift list with items from business owners that are living and working down South! There are plenty to choose from, and you will find the perfect gift for every single one of your friends and family members. Need some Southern shopping inspiration?
This gift guide includes 27 different gifts which are all under $50 that come from Southern brands or makers. You will find things like art, food, pottery, candy, soap, and BBQ seasonings. There is definitely something among these gift ideas for all the people on your shopping list.

Christmas Cookies
Another Southern tradition is the cookie exchange! At these little parties, everyone brings a dozen or two of their favorite Christmas cookies. Once everything is laid out on display, partygoers get to fill up their bags or tins with a sampling of the cookies from everyone's dozens.
It can be a lot of fun–especially if it is combined with a gift exchange! Whether you get invited to someone else's cookie exchange or you decide to host your own at your Charlotte apartment community, you will want a stellar cookie recipe to wow all your friends with, right? Try one of these varieties from the Food Network's collection of cookies, and you are sure to be the hit of the exchange.
Set a Southern Table
Your gorgeous roast an all of your fixins' deserve to be celebrated in style with a properly set Southern table. To get the look, you will want to incorporate a few key elements: color, texture, and natural beauty. Don't feel like you have to stick with just the traditional reds and greens of Christmas. Feel free to add in some gold, silver, or even aqua.
The next thing to consider is the textures, traditional Southern fabrics like seersucker, linen, and burlap all add that special touch of charm you are looking for. Don't forget to add a mason jar, rustic cutting board, or cast iron skillet in the mix. Finally, you will want to add in a touch of natural beauty like a centerpiece of magnolias or some fragrant herbs like rosemary. You can find more tips for setting a Southern table here.
---
By following the tips in this ultimate guide to a Southern holiday tradition, apartments in Charlotte will be virtually spilling over with charm. Your friends and family members will think you were born and raised in the south…even if you weren't!