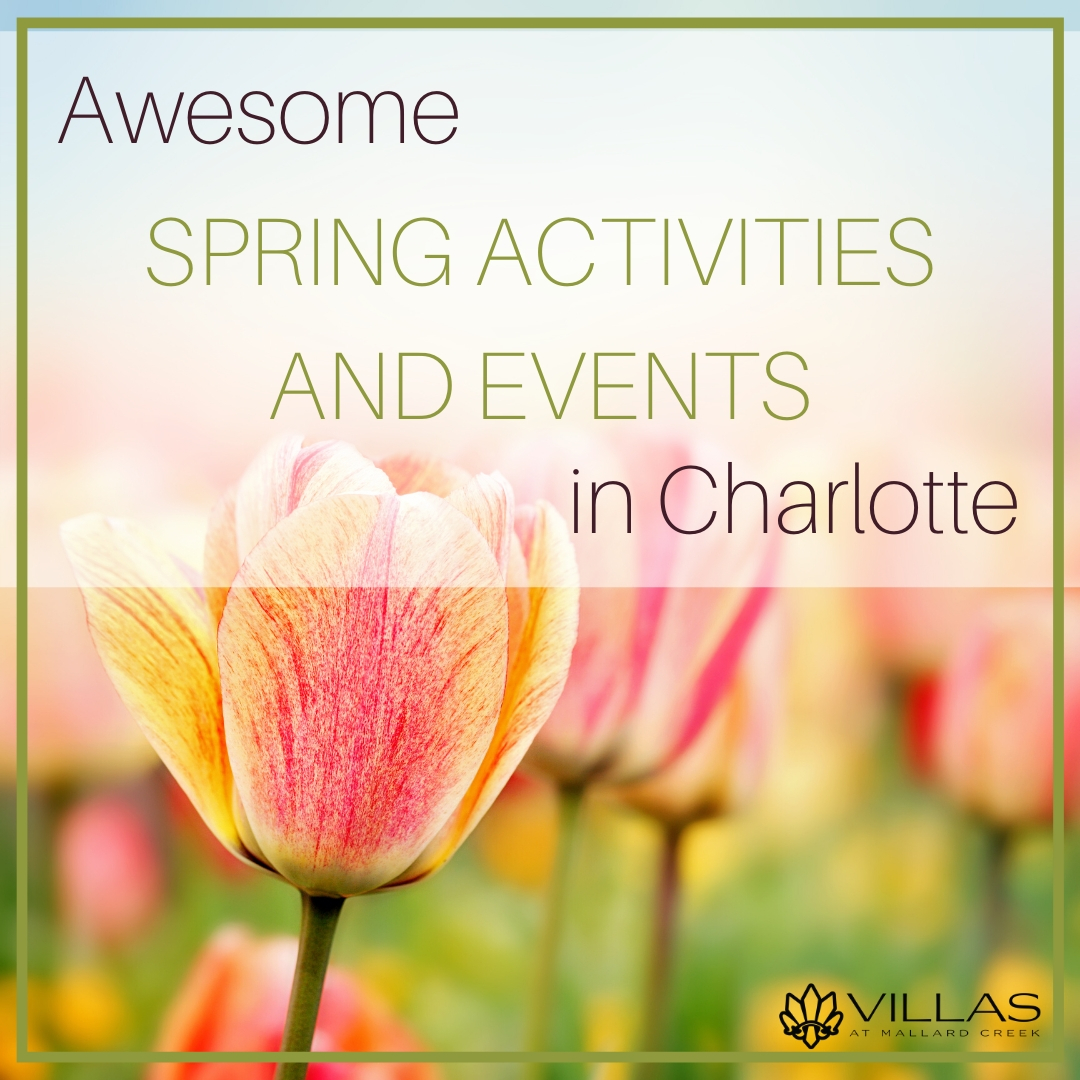 As winter's cold weather and lingering blues near their end, Charlotte begins to bloom. Spring embodies excitement and new beginnings, and when long, sunny days and warm temperatures spring up (pun intended!) the city comes alive.
People shed their coats and enjoy a variety of activities in celebration of a new, promising season. To help you plan ahead, here is a curated list of events to kick-off and help you enjoy the upcoming spring season.
And the best thing about these events is the majority of them are family-friendly! No need to leave your little ones at home in your Mallard Creek apartments because as the American poet Edgar Guest once said, 'Spring's greatest joy beyond a doubt is when it brings the children out.'
When: Every day, daylight hours
Where: UNC Charlotte, 9090 Craver Rd, Charlotte
Spring is the most magical time to visit the UNCC Botanical Gardens. Traverse through the Asian and butterfly gardens, enjoy a waterfall pond, and see a rich variety of plants.
The Gardens, located on the UNC Charlotte campus and within a moderate walking distance of your Mallard Creek Apartments, are open every day and free to the public. It's a wonderful way to spark children's imagination and enjoy a mild day outdoors.
When: Friday, March 13, 2020 – Sunday, March 22, 2020
Where: Charlotte Ballet, 701 N Tryon St, Charlotte
This revamped production of the beloved classic Sleeping Beauty is an aesthetic feast, featuring lavish set design and dazzling costumes. It manages to stay true to its classical choreography and Tchaikovsky's sublime score while bringing something new for the younger generations.
A narrator guides the theatergoers through the performance and encourages audience participation. It's perfect for children and adults as well as those new to ballet.
When: Saturday, April 11, 2020 from 12:00 p.m. to 6:00 p.m.
Where: Funtasticks Charlotte, 10400 Cadillac St, Pineville
The Annual Queen City Easter Festival is the perfect all-day event for the entire family. The festival is free and full of activities including an egg hunt.
Put on your best pastel clothes, and head out for a day of egg decorating, face painting, bounce houses, mini-golf, go-karts, food, and so much more! It's a fantastic and engaging way to celebrate Easter outdoors while soaking up the early spring sun.
When: Monday, April 27, 2020 – Sunday, May 3, 2020
Where: Quail Hollow Club, 3700 Gleneagles Rd, Charlotte
This annual pro golf tournament attracts some of the world's top players competing for a $1 million prize! Kids may get a chance to snag an autograph or two.
Enjoy the championship and taste some of Charlotte's best craft beers during the Tournament Week's Craft Beer Festival. The event features a curated selection of beers and ciders from local breweries. Sip, socialize, and relax on the gold club's lush green grass.
When: Thursday, April 30, 2020 – Saturday, May 2, 2020
Where: Charlotte Convention Center, 501 S College St, Charlotte
Spring is about new beginnings, initiation, and inspiration and the ILS offers a perfect opportunity to cultivate your curiosity and vision. You can make new connections and gain valuable insights.
It is a weekend filled with various workshops and an impressive lineup of renowned visionaries, entrepreneurs, and leaders. It will surely provide you with an unforgettable experience full of inspiration and empowerment.
When: Thursday, May 14, 2020 – Sunday, May 17, 2020
Where: Mint Hill Veterans Memorial Park, 8850 Fairview Rd, Mint Hill
Mint Hill Madness is a celebration of the town's founding and has so much to offer to everyone in the family: live music of all genres, a carnival, and an arts & crafts fair.
Families can partake in shopping from numerous vendors, the thrill of roller coasters, and an all-American parade. The jubilant weekend will end with a breathtaking firework show which is the icing on a cake.
When: Every day, open 24 hours
Where: 9729 Mallard Creek Rd, Charlotte
Escape the city and revitalize in this wonderful, clean, and beautifully paved greenway. It is perfect for jogging, hiking, or riding bikes. The 7-mile trail with a wooded creek side has plenty of parking spots, a children's playground, and mutt mitt stations for animals.
You can enjoy a warm spring day outdoors and soak up some rays after a winter cooped up inside. Plus, it's roughly a 10-minute drive from your Mallard Creek apartments, and a 20-minute drive from the city center.
When: Friday, June 5, 2020 – Sunday, June 7, 2020 from 11:00 a.m.
Where: 101 North Tryon St and 5th Street to Stonewall, Charlotte
Immerse into a 3 day celebration featuring food from over 100 local restaurants. Check out the live music, interactive kid's activities and games, cooking demos, performances, shopping, and so much more!
It's an exciting activity for visitors of all ages and a true celebration and appreciation of everything Charlotte has to offer. Foodies will definitely want to attend.
When: Saturday, June 6, 2020 from 9:00 a.m. and 9:45 a.m.
Where: Taste of Charlotte Festival, 100-198 N Tryon St, Charlotte
Set and achieve new goals this spring by participating in a race on a beautiful and sunny day. Participants start and finish at the Taste of Charlotte Festival in lovely uptown Charlotte.
Runners can complete a full 5K route or a lighter 1-mile run/walk together with family and friends. Enjoy a scenic jog and celebrate at the after-party with live music, awesome swag bags, and plenty of refreshments.
When: Saturday, June 13, 2020 – Sunday, July 5, 2020
Where: Carowinds, 300 Carowinds Boulevard, Charlotte
This absolute must-see is a larger-than-life celebration filled with exuberant entertainment, music, and street performances. The spectacular Color Parade is full of vibrancy and extravagant decorations. Plus, visitors can enjoy scrumptious food and drinks from global cultures while playing plenty of lively games. The arts & crafts area will surely leave long-lasting memories with your little ones.
---
These are only some of the awesome things to do this spring in Charlotte! Now that you are armed with this list of awesome activities for your spring calendar, when will you ever find time for spring cleaning your Mallard Creek apartments? Villas at Mallard Creek is a fabulous place to be.