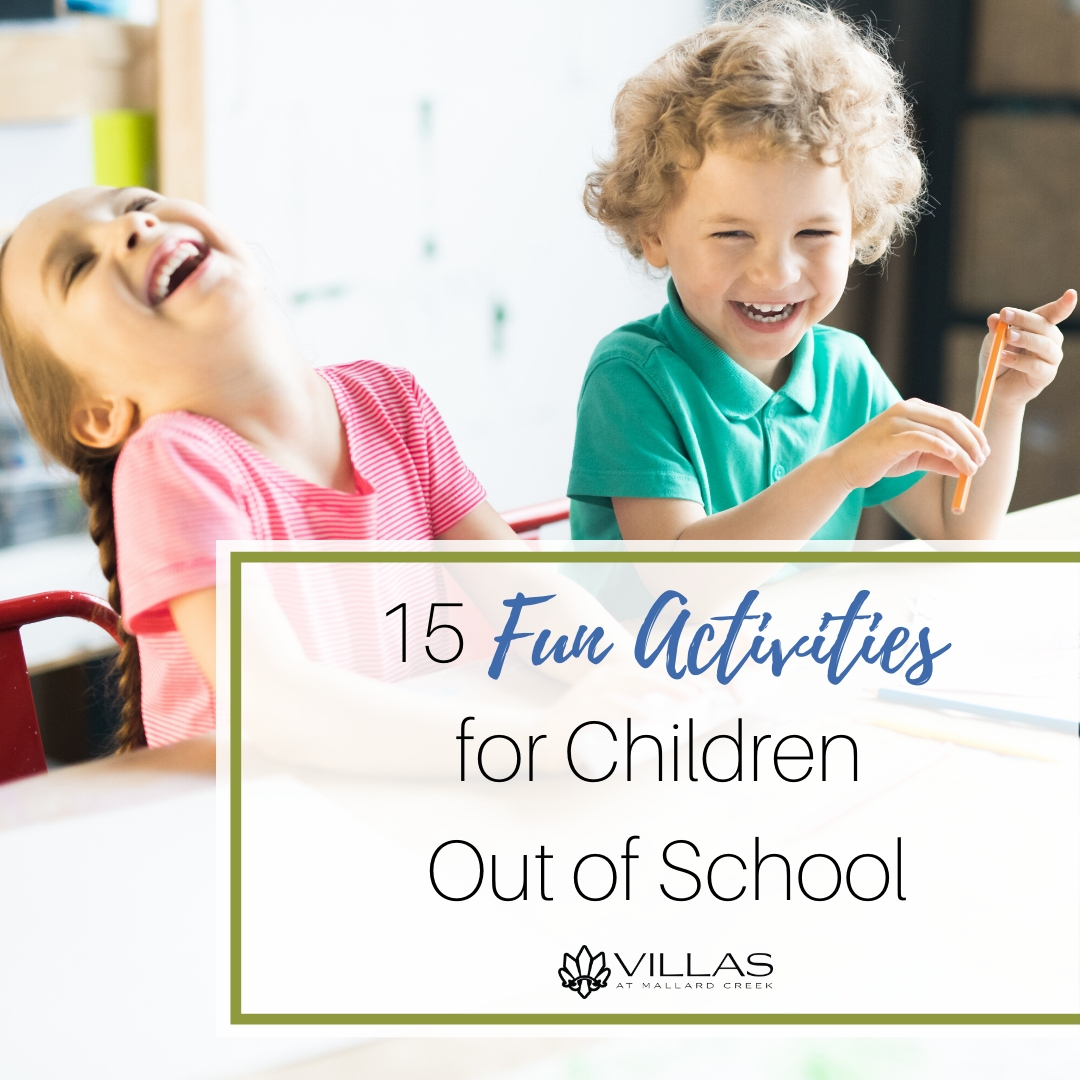 When children are out of school for any significant length of time, it is par for the course that they may be bored. Of course, kids are normally content to sit in the living of your Charlotte, NC apartment and watch their iPad but that doesn't mean that is what is best for them.
In an effort to keep your children healthy and happy while school is out, we have several fun activities to suggest. We think this list will get your children's creative juices flowing. Sit back and watch as your kiddos spend hours of their time creating and playing. Don't be afraid to try a few new things and to engage in these children's activities alongside your little ones.
Here is our list of 15 easy activities for children when they are out of school:
Scavenger Hunt
Everyone loves a scavenger hunt. There are so many great choices floating around social media at the moment. Here is an easy one that we think you will love!
Yoga for Kids
Running around inside your Charlotte, NC apartment isn't a great option for your kiddos to get some exercise. However, a little yoga or stretching is a great alternative. Click here for yoga videos that are specifically for children.
Cooking
What a great time to get in the kitchen with your children and teach them to cook. Allow them to explore their culinary curiosities by cooking something that they love. Here is a great link for recipes and cooking instructions for children.
Online Art Class
Is your child missing art class at school? No worries. Have an online art class at home!
Baking
After you have tried your hand at cooking… how about trying some baking. Children will need supervision when they are around stoves and oven, but they will love spending this time with you. From chocolate chip cookies to cinnamon rolls… there are endless options when it comes to kids and baking.
Audible Book
Audible is a great option for encouraging your child's love of reading (or lack thereof) and to enhance their vocabulary. There are endless options of books to choose from. You can even search recommended books by age.
Book Challenge
If you have plenty of age appropriate books sitting around your Charlotte, NC apartment, then have a family book challenge. Everyone can set a goal of how many books they will read in a week and track everyone's efforts on a fun sticker chart. Pick a small prize for each person who reaches their book goal.
Recycle Crafts
Instead of putting empty cereal boxes and a yogurt containers in the trash, clean them out and save them for a recycle craft day. Let your kids' imaginations run wild with what they can build with items that make have ended up in the trash. All you have to do is supply some glue, scissors, staples, tape, markers, and other craft supplies that you may have on hand.
Try a New Hairstyle
Girls and boys alike will have fun trying a new hairstyle. Give your kids a challenge to create the most glamourous or wacky hairdo. If you children are allowed to use YouTube, they could even watch some hairstyle videos.
Bathtub Fun
Are your kiddos longing for the pool and summertime fun? Let them dig out their bathing suits and some pool toys and let them have a pool day in the bathtub.
Plant Some Seeds
If you have some seeds or can order some online, let your children plant a few seeds and watch them grow. If you don't have access to seeds or dirt, then you can root a potato in a glass of water!
Science Experiment
There are so many great science experiments that your child can try at home with supplies that you probably already have on hand.
Write a Play or Skit
Ask your children to write a play or skit and perform it for your family. This is a great opportunity to have them work on their writing skills, encourage their imagination, and to introduce them to script and theater terminology.
Make a Video/Movie
Kids love to make videos. Challenge your children to make a commercial or even a movie. If your children are old enough, they could even learn to use editing software like iMovie. Making videos are so easy with smartphones.
Create a Lego Town
Legos and building blocks are always so much fun. Let your kids have access to the dining table or coffee table for a few days to build to their hearts content. From a town of superheroes to a doll mansion, there is so much your children can create right in your apartment.

---
We hope that you will enjoy a few of these activities for your children while they are out of school. Maybe you will even make a list for yourself.
Looking for more great ideas of keeping your fur babies happy? Click here.