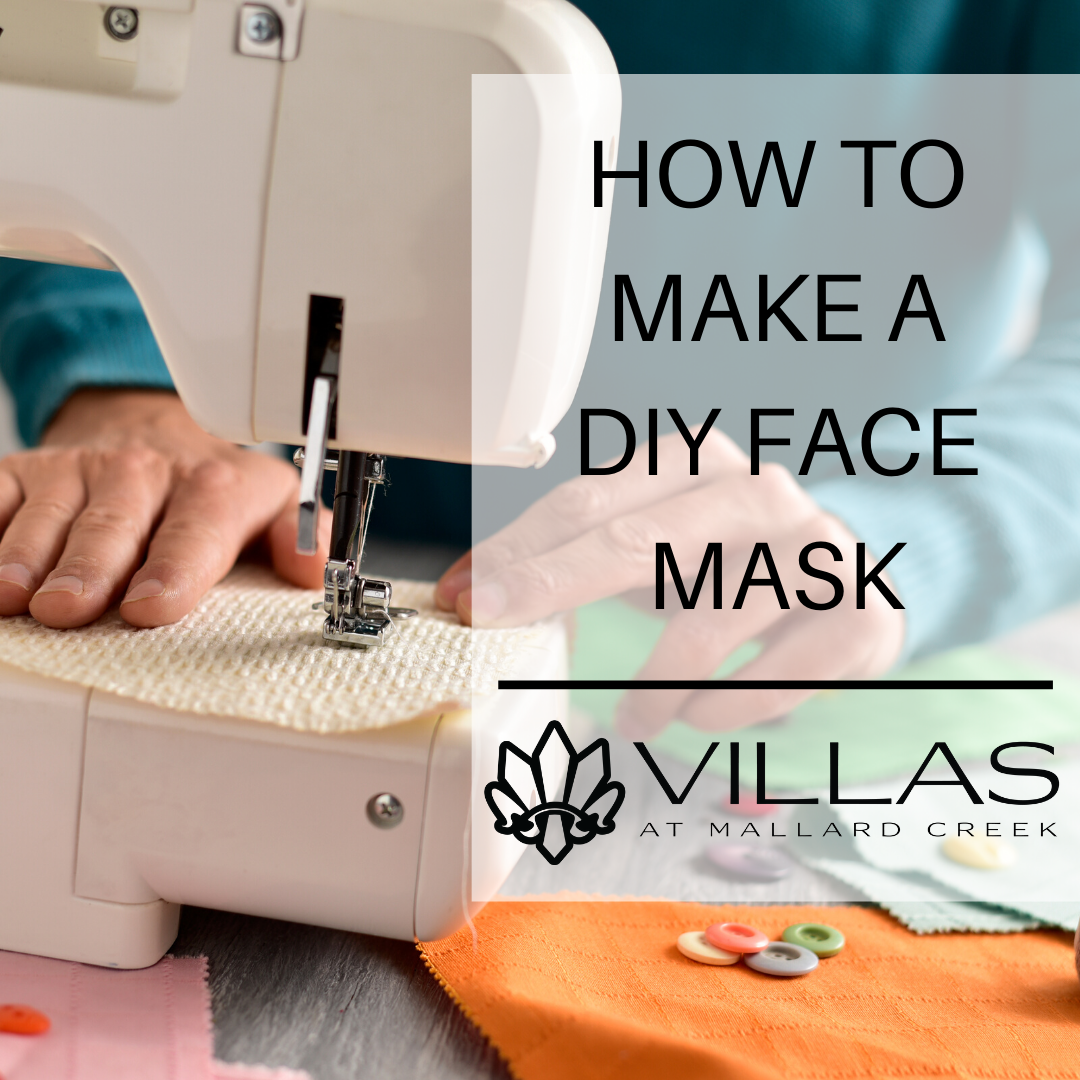 During times of crisis, it often it a relief to be able to do something to help. If you have a sewing machine and a few supplies, you can help our community by sewing DIY face masks.
Healthcare workers are normally required to wear N-95 rated masks when necessary. However, due to recent Personal Protection Equipment (PPE) shortages, there may come a time when they need a substitute. There may be situations where you or a loved one needs to wear a face mask. If no one-time use masks are available, then a DIY face mask may be a good alternative.
The Center of Disease Control and Prevention (CDC) guidelines for wearing masks can be found here.
Atrium Health, which offers the closest hospital to the Villas at Mallard Creek and your Charlotte apartment, has two DIY face mask patterns available. They have an adult hospital mask pattern and a pediatric hospital mask pattern.
Supplies Needed
Here is what you will need:
-tightly woven cotton fabric
-flannel or stabilizer
-elastic or extra fabric to make ties
-bias tape
-plastic coated metal (a twist tie will work)
-scissors
-straight pins
-sewing machine
-thread
If you don't have all the supplies on hand, don't hesitate to ask around. Perhaps one of your neighbors or friends has some. You could put a post on social media letting people know what you are looking for and invite them to join in the cause.
There are many other face mask patterns available that use different combinations of materials. Search the web or Pinterest to find a pattern that will work with the materials that you have available.
If you don't have fabric on hand, you can recycle a shirt made of tightly woven cotton. No elastic? There are DIY mask patterns that call for fabric ties instead of elastic.
No sewing machine? There are no-sew patterns for t-shirt face masks, or you could hand sew. Click here for a no-sew t-shirt mask video tutorial.
How to Donate Your DIY Face Masks
Atrium Health is currently accepting DIY hospital mask donations. If you would like to join in the cause or have questions, please email [email protected].
Volunteers around the Queen City are joining in to make DIY masks. Will you?
If you decide to make your own DIY face mask, share your results on our social media! Tell your Charlotte apartment community what you are doing to keep yourself and your city safe.