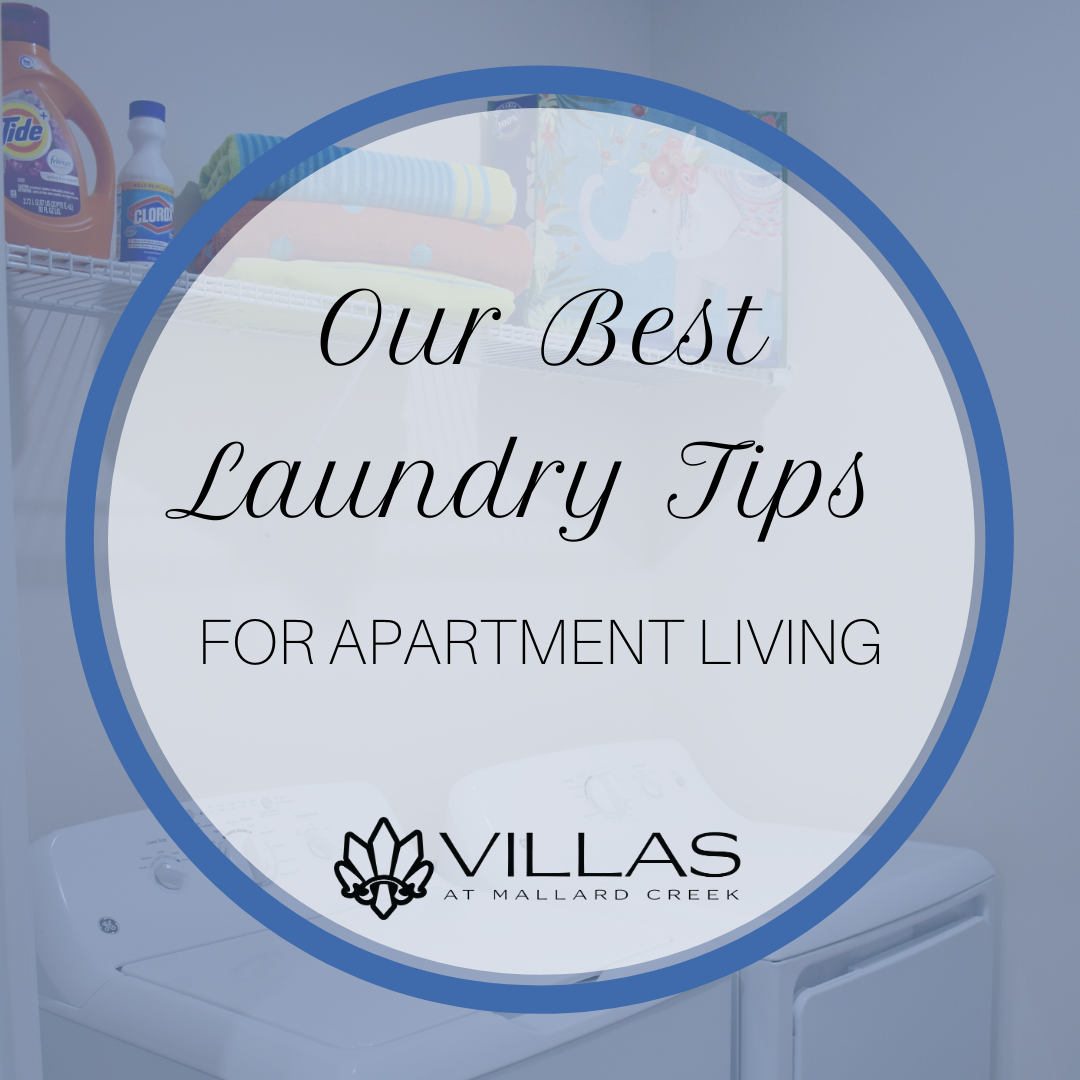 Sometimes it is the little things in life that make all the difference… like have your own washing machine and dryer. During these unprecedented times, the thought of using a public laundry mat or community laundry facility can evoke feeling of fear and of being overwhelmed. Here at the Villas at Mallard Creek, we provide a washing machine and dryer in every single one of our Charlotte apartments.
Not only do you get convenience and ease with your apartment's own washer and dryer, but you also get peace of mind. While laundry is still a chore, we think that you will appreciate having your laundry facility at your fingertips.
Here are our best laundry tips to make your clothes washing task more cheer and less chore!
1. Read Your Clothing Labels
It is important to know your clothing so that it is washed and dried properly. Before you even buy a new piece of clothing or linen, be sure to read the label for laundry instructions. If you are not the kind of person who will lay something flat to dry or pay attention to delicate fabrics, then that may affect your buying process. After all, it will affect your laundry process.
A little self-education about your clothing and washable household items can go a long way in the products lifespan. Proper laundry care can easily extend the life of clothing… just as improper or careless laundry care can shorten it. Many people have not heeded "wash with like colors" instructions, only to be left with pink clothing that should be white!
2. Choose the Right Settings
Now that you are familiar with your laundry label, be sure to choose the correct setting on your machines. Do you choose cold, warm, or hot water? What temperature should your dryer setting be for certain clothes?
Remember that warm and hot water will use more electricity since the water is having to be heated. However, if you are concerned about viruses or bacteria lurking on the surface of clothing, hot water and soap is your best defense.
Some washing machines will have a pre-soak option that is perfect for clothing that is extra soiled.
TIP: Need to get the wrinkles out of an article of clothing quickly? Throw the clothing in the dryer with a damp cloth and run for 15 minutes on a medium-high setting. The heat and the damp cloth create steam which help to reduce the wrinkles.
3. Choose the Right Laundry Detergent
Different styles of washing machine require slightly different laundry detergent. Be sure to check the tags on your washing machine for any instructions regarding laundry soap. High Efficiency washer will work best with laundry detergent designed for HE machines.
Certain fabrics also require special soap. This is another reason why reading labels is important. In addition to regular laundry detergents, there are laundry boosters, stain sprays, color-safe bleach, soap for delicate fabrics, etc. One must also consider their individual preference and needs. Some people have sensitive skin which requires special products. Others prefer the "fresh spring rain" scent or need tough detergent that will stand up to really dirty clothing.
Don't forget about fabric softener. This too is a personal choice. There is liquid softener and dryer sheets. Again, check your machine to see what the best option is.
4. Pick a Laundry Routine
A laundry routine is essential to keep your Charlotte apartment neat and tidy… and to keep your clothes clean. No one likes to run out of clean clothes!
Different routines will work for different people based on their schedule and personality. Some people do a load of laundry every day. This allows them to stay on top of laundry at all time. It also great for people who do better with a consistent daily schedule. Othesr prefer to do laundry once a week on their day off. This method typically results in multiple loads of laundry, but it all gets knocked out on one day…. normally a day off work.
There are still others that prefer to do laundry at random or when the clothes hamper is full. The full basket is their cue that laundry needs to happen.
Whichever your preferred laundry method, it is important to take your laundry from dirty to wash, dried, folded, and put away in a timely manner. If you have ever opened the washing machine on a hot summer day to find laundry that was left in it from a week before… you will understand this point. The same is true if you ever went searching for your favorite jean, only to find then wrinkled in the bottom of the dryer after sitting there for several days.
Your clothing and linens are a large investment. Treat them with the respect they deserve.
5. Washer and Dryer Maintenance
Here at the Villas at Mallard Creek, we take care of the maintenance on the washer and dryer provided in your Charlotte apartment. However, there are several things that you can do to keep you units in tip-top shape.
– remove dryer lint after EVERY load
– remove dust and debris from on/around your units
– report any leaks or squeaks immediately
Our onsite maintenance staff will be happy to assist you with any issues regarding the washer or dryer in your apartment. However, we do depend on our residents to take care of them on a day to day basic. Click here for a few additional routine care tips!

---
When shopping for a new apartment in Charlotte, NC, be sure to stop by the
Villas at Mallard Creek
. Take a tour of our new apartment community and see why this is the place to call home!