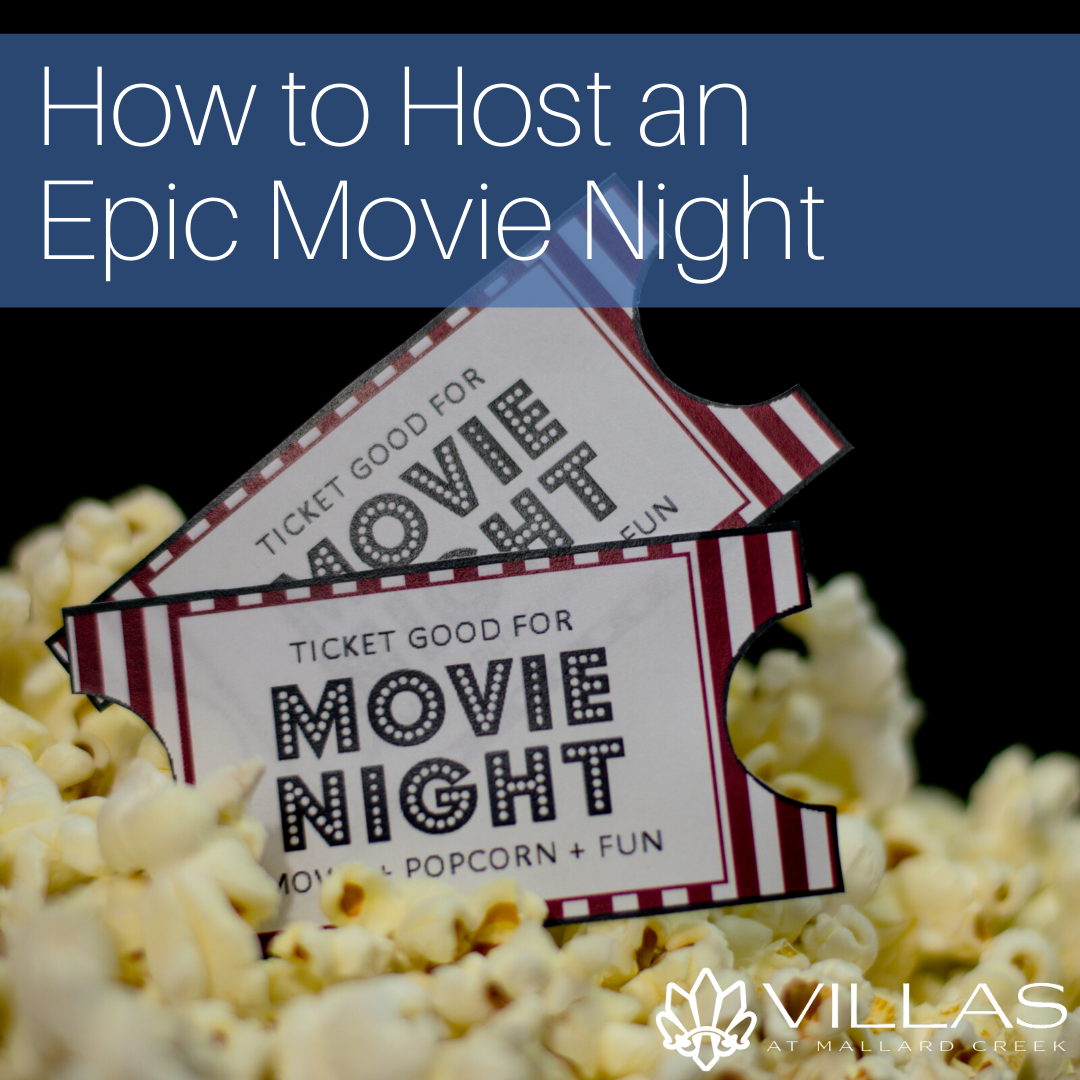 Hot popcorn, a few sodas, and a great movie are just a few of the items needed for an awesome movie night. Want to plan a few hours of fun? Host your very own movie night.
Impress your friends or family with an epic night at the movies, right in your own Mallard Creek apartment. This is a great activity for small groups or even a date night. What are you waiting for? Start planning your epic movie night today!
Pick the Movie
With most movie theater closed due to COVID-19, many new releases are available for rent or purchase directly from Amazon Prime! Of course, there are a plethora of movies included with a Prime membership for you to consider. Netflix or Hulu are also great option for streaming movies. In you prefer a DVD, then you always rent from Red Box or choose something from your own collection.
What genre to select your movie from largely depends on the audience. Horror, Suspense, Romance, Action, Animation, Rom-Com, or Family-Friendly are just a few of the categories to choose from. Be sure that the movie rating and content is appropriate for the age and/or sensitivity of your family and friends. If you are unsure of a movie rating, you can visit FilmRatings.com to find out more.
Can't decide on just one movie? Then you can host a movie marathon. There is nothing like a Twilight, Harry Potter, or Marvel marathon!!
Snacks
Every good movie night deserves great snacks! Whether you opt for fresh buttery popcorn and soda or pizza and beer… the snacks can make or break your movie night. If you want to get really fancy, you could set up a popcorn and candy bar for your guests to scoop up their own yummy concoction. You will need a variety of popcorn toppings and candies to choose from. Click here for a blog post all about a DIY Movie Night Popcorn Bar.
If you a feeling fancy, you could even have a DIY Nacho Bar! Yummy! Your Mallard Creek apartment will be the envy of the neighborhood.
If you have children present be sure to have a few non-caffeinated drinks available. And for your health-conscious friends, you may consider a fruit and veggie tray or even pretzels.
Intermission
Be sure to plan at least one intermission for your movie night. There is nothing worse than needing to use the restroom during a movie and having to ask someone to pause it… or miss out on part of the movie.
A good host will plan to pause about halfway through the movie, so their guests can refill drinks, get a snack, stretch their legs, or use the restroom. After a few minutes, you can blink the house lights or make a simple announcement that the movie is about to resume!
Invitations
When setting the date for your movie night, you will most likely text or chat with your friends or family to find a day/time that works for everyone. Why not take it a step further and print out these cute (and FREE) "Movie Night Invites"? Whether it is your friends or your kids… they will be impressed.
---
There you have it. Your easy DIY guide to host an epic movie night from your Mallard Creek apartment. Remember to plan ahead so you can sit back, relax, and enjoy the show with your friends!