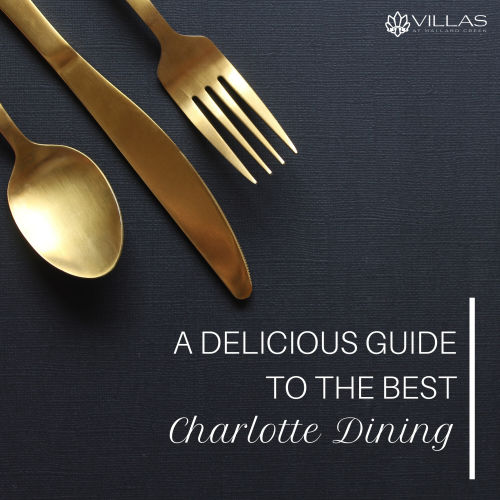 Whether you love great food and trying new things or you're just a tired mom looking for someone else to do the cooking tonight, Charlotte is the perfect place to enjoy a delicious meal! From yummy breakfast options to decadent desserts, the Queen City has it all. Read on to learn about a few of the best local restaurants that you can grab take out from and enjoy at home in your Charlotte apartment. You'll probably have a hard time deciding which one to try first!
BREAKFAST
The Original Pancake House
For over twenty years, The Original Pancake House has been serving up their famous bacon, pancakes, and more! With two locations in Charlotte, it's super easy to get your breakfast fix anytime you want. Pancakes loaded with delicious fruit, stuffed-full omelets, and fluffy waffles can all be found on their menu. Make plans to try them out on a lazy Saturday morning!
The Flying Biscuit Café
Craving a warm, fresh biscuit? The Flying Biscuit Café is just the place to go! In business for over twenty years, The Flying Biscuit Café is a Southern favorite and features two locations in Charlotte. They boast a huge menu with a wide variety of items and serve breakfast all day, every day. The best part? They deliver! Perfect for enjoying in your Charlotte apartment.
LUNCH
Pinky's Westside Grill
Featured on Food Network's Diners, Drive-Ins, and Dives with Guy Fieri, Pinky's Westside Grill is a Charlotte favorite! Whether you're craving a corn dog, tacos, or a burger, Pinky's Westside Grill is the way to go! They get super busy so be sure to plan ahead.
Paco's Tacos & Tequila
If you're looking for delicious, authentic Tex-Mex dining, look no further than Paco's Tacos & Tequila! Crafted by James Beard award-winning chef and cookbook author Rob Walsh, Paco's menu features all of your favorite Tex-Mex dishes with a bit of extra-yummy flair! They also serve over one hundred different tequila varieties and offer delivery right to your Charlotte apartment.
DINNER
Tupelo Honey
Featuring good ole' Southern cooking at its best is Tupelo Honey! Inspired from the dishes of the North Carolina mountains, Tupelo Honey features responsibly sourced ingredients that have been putting a smile on peoples faces for over fifteen years. Fried green tomatoes, fried chicken, meatloaf, pancakes, banana pudding, and more can be found on their menu. They even offer family values meals which makes planning tonight's dinner a snap! Pick out your family's dinner here.
Midnight Diner
Open 24/7 and perfect for the late night munchies is Midnight Diner! They have a huge menu loaded with variety and are located in a classic, shiny old-school diner. Midnight Diner even offers take out so you can have breakfast, lunch, dinner, snacks, or desserts delivered right to your door whenever you want.
The Fig Tree Restaurant
What could be more romantic than ordering a delicious, up-scale dinner and enjoying it in the comfort of your Charlotte apartment with your special someone? Light some candles and plan a romantic dinner-for-two from the comfort of your own home. The Fig Tree Restaurant offers delicious filets, lobster, decadent desserts, and more. They'll even bring your order right out to your car!
DESSERT
Crave Dessert Bar
With its loft-like artful décor and cool vibes, Crave Dessert Bar is the place to go for late-night (or anytime!) desserts! They also offer take-out for some of their delicious desserts like cheesecakes, layer cakes, and cupcakes.
Amelie's French Bakery & Café
French pastries and coffee go together like peanut butter and jelly, and what better place to enjoy some of France's finest offerings than Amelie's French Bakery & Café! With five Charlotte locations, it's super easy to enjoy a delicious taste of France! They offer delivery, however they close daily at 3:00 PM so make plans accordingly. View their scrumptious menu here.
Our list is just a few of some of Charlotte's best and most delicious dining options that are available. The best part is you can order take-out or delivery and try them all, right from the cozy comfort of your Villas Mallard Creek apartment. So… what's for dinner tonight?