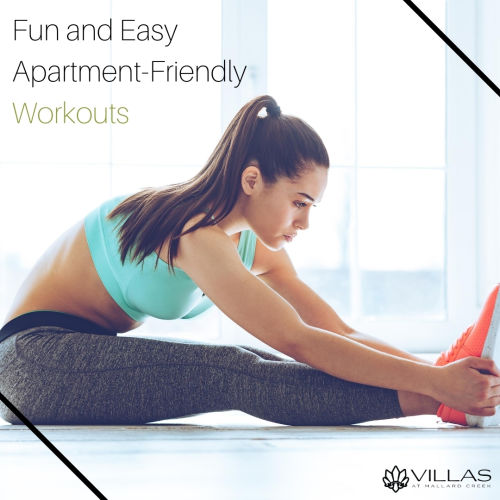 We all know that staying healthy and active is an important part of life. Not only is exercising good for your body physically, but mentally as well. With many gyms currently closed, staying fit may be a bit more challenging… but we've got you covered with a few awesome workouts that you can do right at home in your Charlotte apartment, so lace up those old tennis shoes and get your sweat on!
Before performing any exercises or workouts, always remember to warm up first. Do a few stretches with your arms, legs, neck, and back, and jog in place for a few seconds. Now you're ready to go!
Core Exercises
Tighten up that tummy and strengthen your core with these awesome moves!
-Bicycles: Lay flat on your back, put your feet in the air, bend your knees, and do just what the name says… act like you're riding a bicycle! Do a few rounds of one minute each.
-Planks: Not only do planks tone your core, but your whole body as well! Lay on the floor on your stomach and move up onto your elbows and toes, kind of like you're going to do a push-up with your elbows. Hold that for one-minute and repeat a few times. You'll quickly feel the burn with this one!
Upper Body Exercises
It's tank-top season, so tone up those arms and show them off with these great exercises!
-Bicep Curls: If you don't have your own set of dumbbells, grab a gallon of water or something similar and hold it in your hand, palm facing up. Curl it up to your shoulder slowly and then release your arm back down. Do this 10-15 times, rest, and repeat.
-Push-Ups: Go old school and do a few rounds of push-ups! Get your little kids involved and let them sit on your booty for a little extra challenge! Click here for a quick video on how to execute a proper push-up!
Lower Body Exercises
Give your legs a little lovin' and strengthen them with these challenging moves!
-Jumping Squats: Just like a regular squat, but with a little extra power! Stand with your legs about shoulder width apart, toes pointed forward, and do a normal squat down (be sure not to extend your knees over your toes, this can cause knee damage!). Instead of slowly rising back up, jump up as powerful and as high as you can! This is a great exercise to get the kids involved with as well.
-Calf Raises: You'll want to stand by a wall or doorway for a little balance support for this one. Place your hand on the wall or whatever you're using for support and raise up on your tippy toes and then slowly back down. You can do both legs at once or one leg at a time!
Cardio Exercises
Get that heart pumping and your blood flowing with these exercises!
-Jumping Jacks: Your kids will want to join in for sure with the beloved jumping jacks! Do a few rounds of 30 and your heart will thank you.
-Jog in Place: Not able to go outside and run? No worries… get your jog on right in your Charlotte apartment's living room!
Whole Body Workout
-Dance: Put on your favorite upbeat music, clear some space, and get to grooving! Dancing is an excellent way to workout your whole body and have fun with the whole family.
These are just a few of almost unlimited workout ideas that you can do right at home, here at the Villas at Mallard Creek. We hope we've inspired you to get moving and continue the pursuit of a happy, healthy lifestyle!