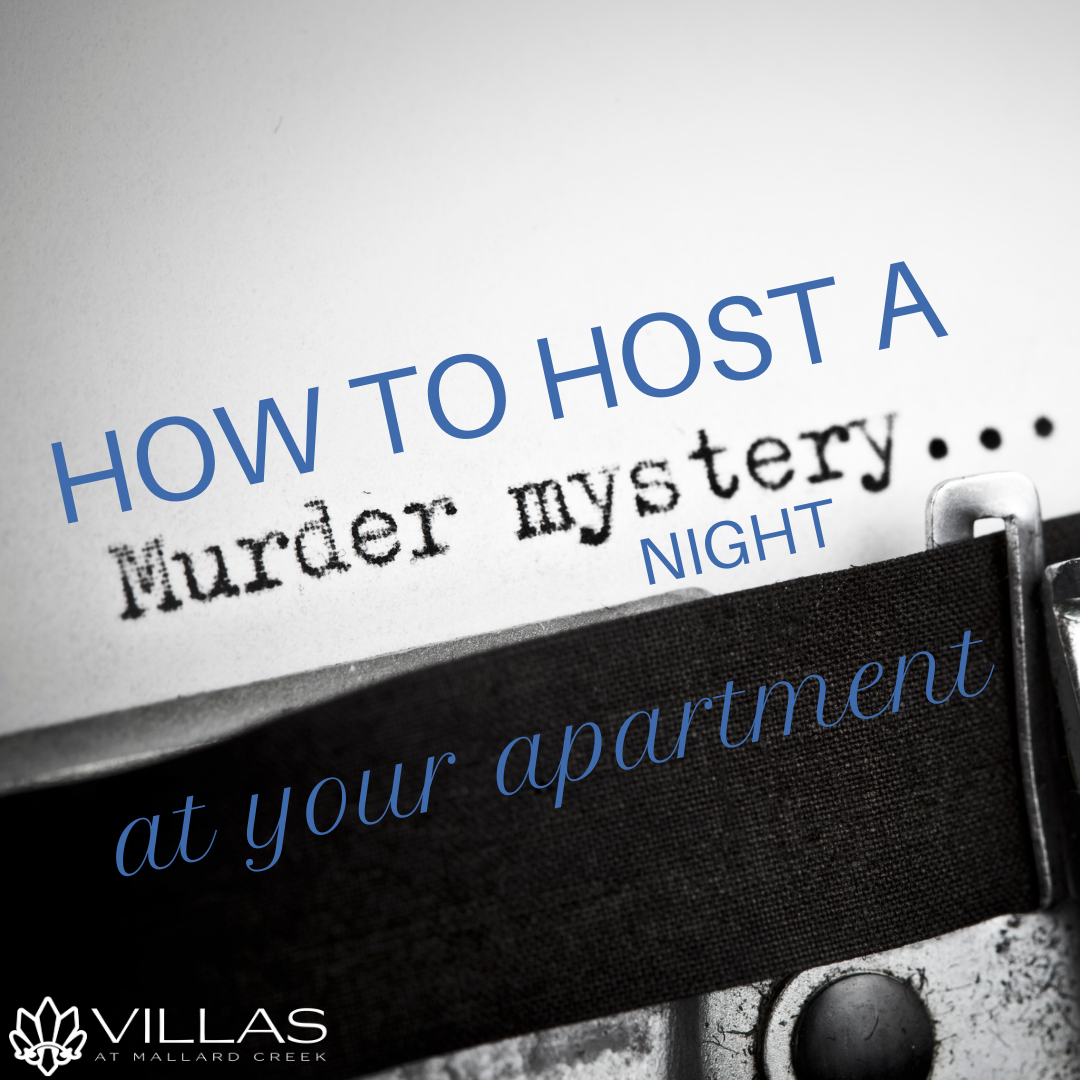 In Charlotte, there are a lot of activities that will keep you busy, but sometimes, an apartment party is a bit cozier and more appealing. So how do you spice up your regular old friendly get-together?
You can try a murder mystery party! There is so much that you can do to make an interesting story and have fun with your friends — even on a budget. Let's talk about how you can put together an amazing party for you and your guests from the comfort of your Charlotte, NC apartment!
Plan your story
An interesting, well thought out storyline is what makes a good murder mystery party. It will turn into a deep and intricate adventure that you and your guests will be enjoying all night.
To start, decide who your characters are, the era you want the story set in, and make a list of each characters' quirks. Then, build a background that connects each character to at least one other. Next, you will start weaving your story around the criminal. It is best if you make sure that each character carries a clue to finding out who the murderer is.
You can build the characters to follow a script, which guides the story along a predicted path. This game will move much faster, as each person will hit all of their character cues to reveal clues about the murderer. You can also choose to wing it! Build a general background on each character and let your guests choose how they want to go about expressing themselves.
Assign Your Characters
If you know your guests really well, you can assign characters to them that best suit their personalities and relationships with others. If you have a funny character. Maybe the clown of the group may fit the role of the funny guy. If you have a friend who is flirty, they could play the sensual ex-wife role.
This attention to detail ensures everyone feels natural playing the roles. It can also help avoid people being placed in uncomfortable positions.
Invitations
Invitations, whether online or through snail mail, are an excellent way to prepare your guests for the party. It can go a long way towards setting the mood of the get-together — before anyone even sets a foot in your Charlotte, NC apartment! You can head on over to Canva, or any other online editing tool, and make invitations in the theme of your crime scene.
Costumes
If you are on a budget, simple items that point out the main features of a character might work. For instance, you can give a straw hat to a farmer or a walking cane or an older man.
However, if you and your guests are not financially restricted you have two options. You can provide the costumes yourself either renting or purchasing them. The other option is to assign the character role on the invitation and have your guests arrive at your Charlotte, NC apartment already in costume.
Decor
Head on over to your local party or Halloween store to find affordable decor that matches your story. You can make your apartment spooky with cobwebs, fake blood, and flashing lights.
You can also head on over to any home store and pick up inexpensive items like tablecloths, that can better express the mood of your murder mystery party. Thrift stores like Goodwill are another great option.
Food
Food is a must at a murder mystery party! Even if the story is super compelling, finding the murder will starving will just lead to grumpy guests. Don't let a bunch of hangry people kill your vibe!
If you are keeping the costs down, a simple snack from any of the stores near your Charlotte NC apartment will do. You could also turn it into a potluck event where everyone brings their own dish — get creative and have them match it to their character!
If you really wanted to wow everyone, you could have the party catered. Creating a meal that goes along with the story line!
Murder Mystery Games You Can Use
If you think that you are not a creative enough person to write your own mystery, don't worry! You can still host a smashing murder mystery party.
There are plenty of game options for you to choose from, and many won't even cost you a cent. Here are a few freebies you can download straight from the web:
Whether you are keeping it simple or going all out, murder mystery parties are great fun. Choose a story, plan your decor, and invite your friends. Your Charlotte, NC apartment just turned into a fantastically fun crime scene.
To learn more about the Villas at Mallard Creek, click here.