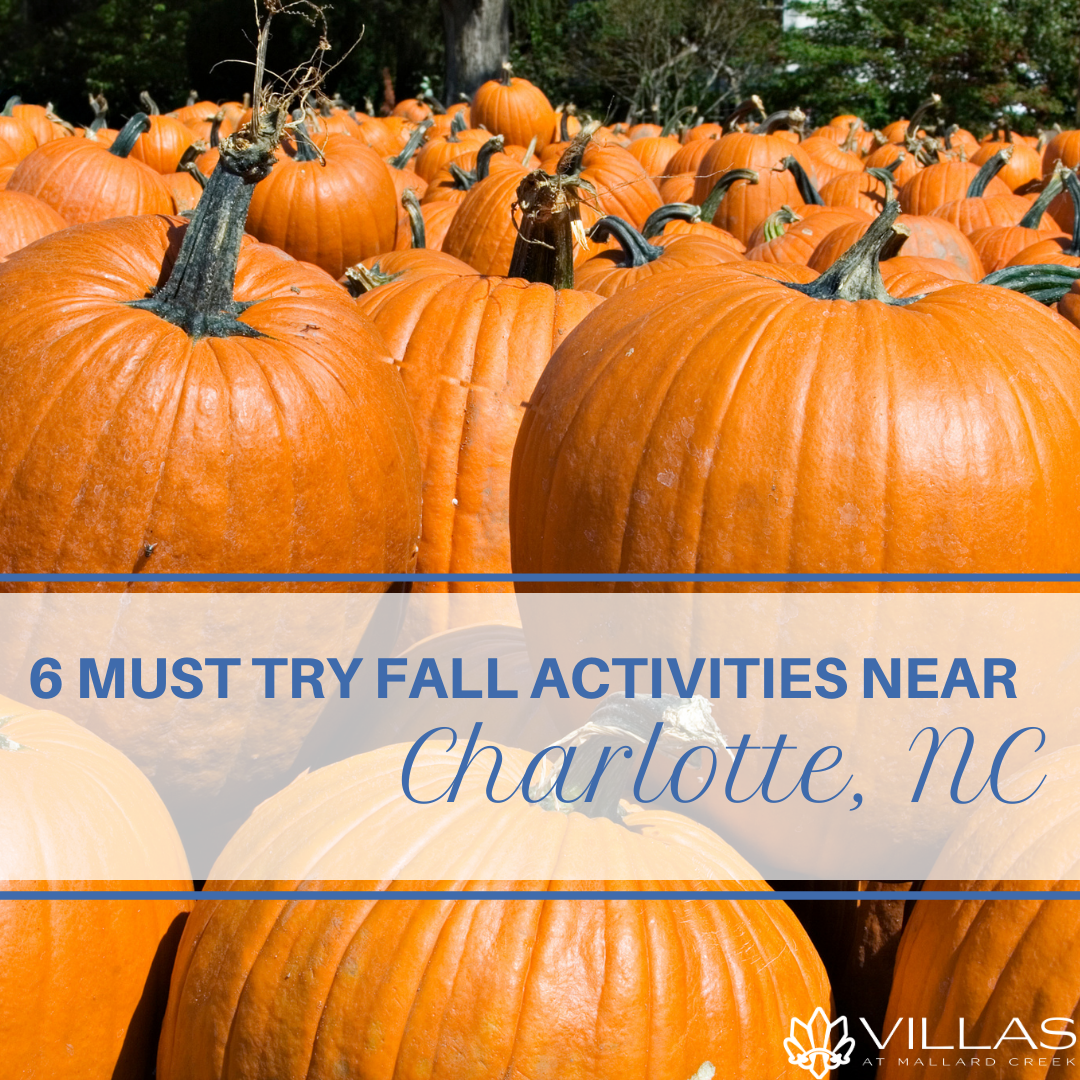 As soon as Pumpkin Spice lattes pop up on the Starbucks menu, you know it is time to say goodbye to the sweet days of summer and jump headfirst into the crisp days of fall. The Halloween costumes are hitting the store shelves, and the leaves around your Mallard Creek apartments are changing hues. For many, fall is a favorite time of year because the weather is finally to a manageable temperature for hanging out outdoors!
The city of Charlotte also has a love for this time of year which is why you can find so many fun activities to keep you busy in and around the metro area. From pumpkin patches to apple cider donuts, you are sure to find great fun no matter where your autumn interests lie. There is no need to keep yourself locked up in your 2-bedroom Charlotte apartment (unless you like the solitude!) when there is so much to do in the Queen City.
So, here are six fantastic fall activities near Charlotte to keep you busy all season long.
Explore Camp North End
Located in an up-and-coming part of the city, Camp North End is housed in what used to be a manufacturing site for missiles and Model T cars. Now, it is 76-acres and 40+ innovative tenants in an open-air creative art hub.
Plus, there is fun to be had any time of day. If you head out of your Mallard Creek apartment in the morning, you can catch a quick fitness class at Bloc Charlotte and a cup of Joe at Hex Coffee. In the afternoon, you could browse the art at DUPP & SWAT and then grab a bite at Bleu Barn Bistro. For after work cocktails, you could spend a couple hours sipping beverages at Black Moth Bars.
With the open-air concept, fall is the perfect time for a visit to Camp North End.
Day Trip to Windy Hill Orchard
Spent your morning scrubbing down your 2-bedroom Charlotte apartment? Then reward yourself with an afternoon at the Windy Hill Orchard and Cidery located in York, South Carolina. You can enjoy yourself on a hayride or picking a basked of apples.
All that fresh air is likely to churn up an appetite so you will need to indulge yourself with one of their famous apple cider donuts, deep-fried to perfection. Those wanting an adult beverage will need to make their way to the hard cider bar!
You can visit Windy Hill Thursday through Sunday. Picking apples will cost you somewhere between $5 and $25 — depending on whether you want a few or enough for the whole neighborhood!
Spin Your Wheels at Biketoberfest
On October 24th and 25th Sustain Charlotte will be rolling out 2020's Biketoberfest in the Queen City. Things will be a little different this year with a "Choose Your Own Adventure" theme to round things out. There will be 5-10 different routes throughout the city, so one of them is sure to be convenient to your Charlotte apartment.
While the big, group celebration has been canceled this year due to social distancing requirements, there will still be plenty of fun in store. Biketoberfest will include a scavenger hunt and raffle prizes!
Go Pumpkin Picking
What would fall be without a Jack-o-Lantern adorning the front door of your Mallard Creek apartment? But there is no rule that says you have to head to the nearest Harris Teeter to snag your carving pumpkin, not when there are so many pumpkin patches to explore.
There are actually 10 amazing pumpkin patches within easy driving distance of the city including Bush-N-Vine Farm, Millstone Creek, and Potter's Pumpkin Patch. To make a whole day of it, grab a pumpkin beer from one of the local breweries. Then you can sip and carve all afternoon.
Lace-up Your Sneakers and Go Running
Want to combine exercise with your fun fall activities? Then you are ready to hit up a quintessential Charlotte Halloween event: The 5th Annual Running Scared 5 Miler & Monster Mile! This annual event will actually be on Halloween day this year starting at 9 am.
It is a family-friendly event, and participants are encouraged to come in costume. While it is not required to enter the race, creative attire is definitely encouraged. The event starts at Romare Bearden Park and the race route runs through Uptown. Expect food trucks, games, and more.
Watch a Movie — at the Drive-in!
To keep things properly social distanced, a fun fall treat could be to catch a movie at the drive-in. While you could, of course, stick to Netflix in your Mallard Creek apartment, it is definitely a bit of a treat to catch a flick on a bigger screen.
You can see some classic Halloween movies like Hocus Pocus and Beetlejuice at Hounds Drive-In Theater in King's Mountain. While it is a bit of a drive from the city, the old-school experience will be worth it.
Now that you have these 6 fantastic fall ideas in your arsenal, you will be ready to celebrate the season with more than just a latte, right?