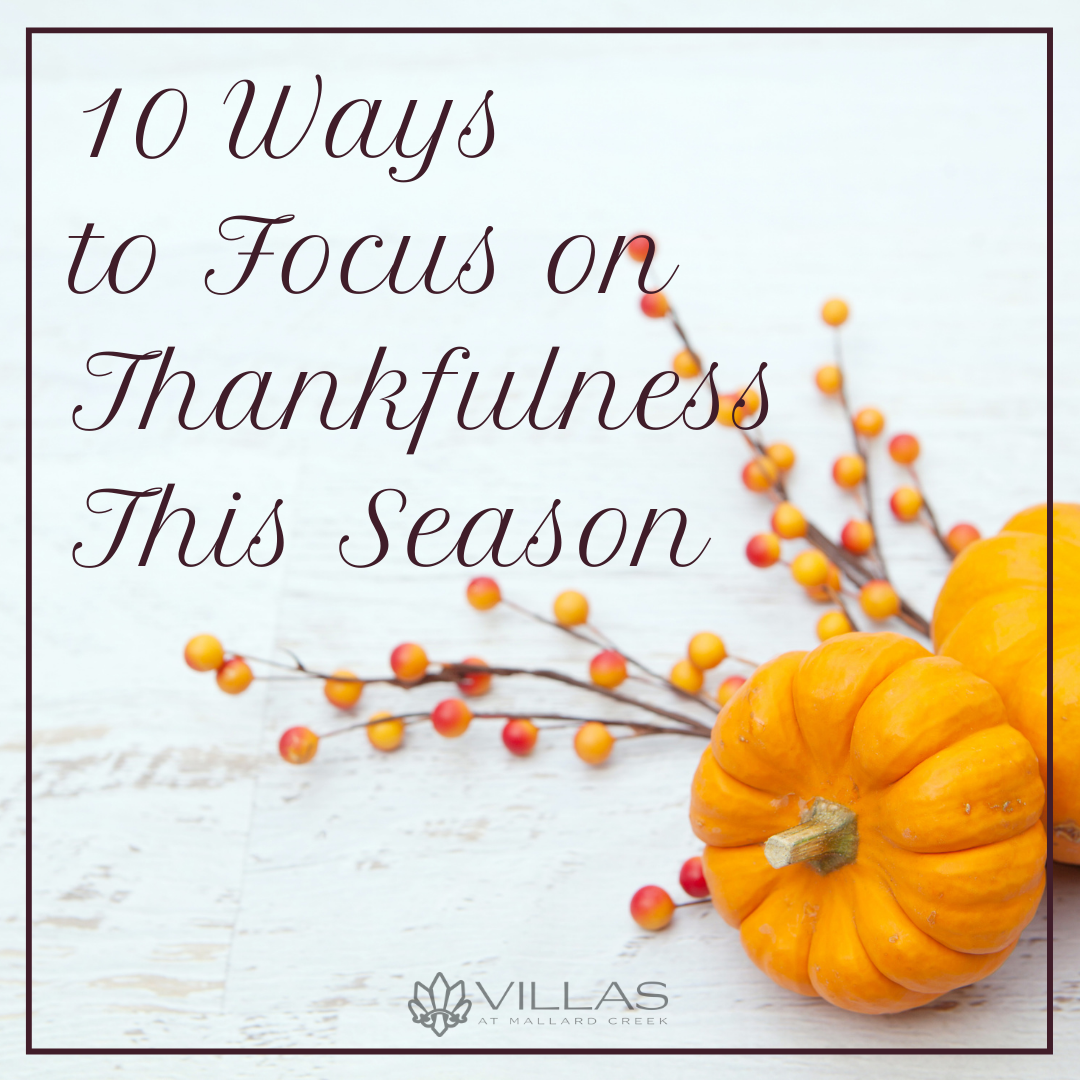 "Cultivate the habit of being grateful for every good thing that comes to you, and to give thanks continuously. And because all things have contributed to your advancement, you should include all things in your gratitude." ―Ralph Waldo Emerson
This is the time of year when people start taking stock and looking back at all of the things they have to be grateful for. While it definitely takes an effort to be more mindful in your daily life to maintain thankfulness all year long, most people remember to be gracious during the holiday season.
There are countless studies on how being thankful leads to positive outcomes such as a general sense of wellbeing. Some even make the claim that it can have health benefits like lowering blood pressure or decreasing depression.
To help you improve your holiday season with a little gratitude — even if you are staying at home in your Charlotte, NC apartment — we have compiled a list of 10 ways you can focus on thankfulness this season!
Remember to thank others
There may be a lot of people in your life that you are happy to know and love, but how often do you actually let them know you appreciate them? It is important to take out the time to express your gratitude and let each and every one of them know exactly how they make your life a little bit better — just by being them. Whether you invite them all to your Charlotte, NC apartment for a little gratitude party, or you simply send them a lovely text message, these family members and friends will surely be delighted to hear your kind words.
Daily affirmations
Saying daily affirmations is an excellent habit that you should attempt to maintain, even after this season of thankfulness is over. Start each morning by saying, out loud, three good things. This can be things that you are grateful for, a reminder of a good thing that happened in your life, or simply something positive you want to remind yourself of. This one can even be a family activity said around the dinner table!
Start a gratitude journal
If you are more of a visual person, you may want to write your affirmations and expressions of gratitude down. Starting a gratitude journal can lead to a life-long positive outlook. It can be something you keep personal and private, or something you keep on display in your Charlotte, NC apartment. There are plenty of pre-made journals on the market that will help you in your daily writings. However, you can also get started with a simple notebook you already have lying around. Click here to read more about gratitude journals.
Acknowledge the not so good
Focusing on being thankful doesn't mean walking around with blinders on and blocking out all the negative. Unpleasant things happen, that is just a fact of life. But to grow as a person and maintain your positive outlook, you can't bury your head in the sand. You need to acknowledge the things that are negative or simply disappointing, and then you can figure out how to move forward. This will also keep you from falling into a bad habits or denial and blame.
Savor the happiness
In this fast-paced world full of long work weeks, endless social media notifications, and vast amounts of information coming from all sides, it is easy to get caught up. However, it is important that you take time out to savor the good moments and really be present in the moment. This may mean turning off electronic devices, putting down the camera, and just living life as it comes.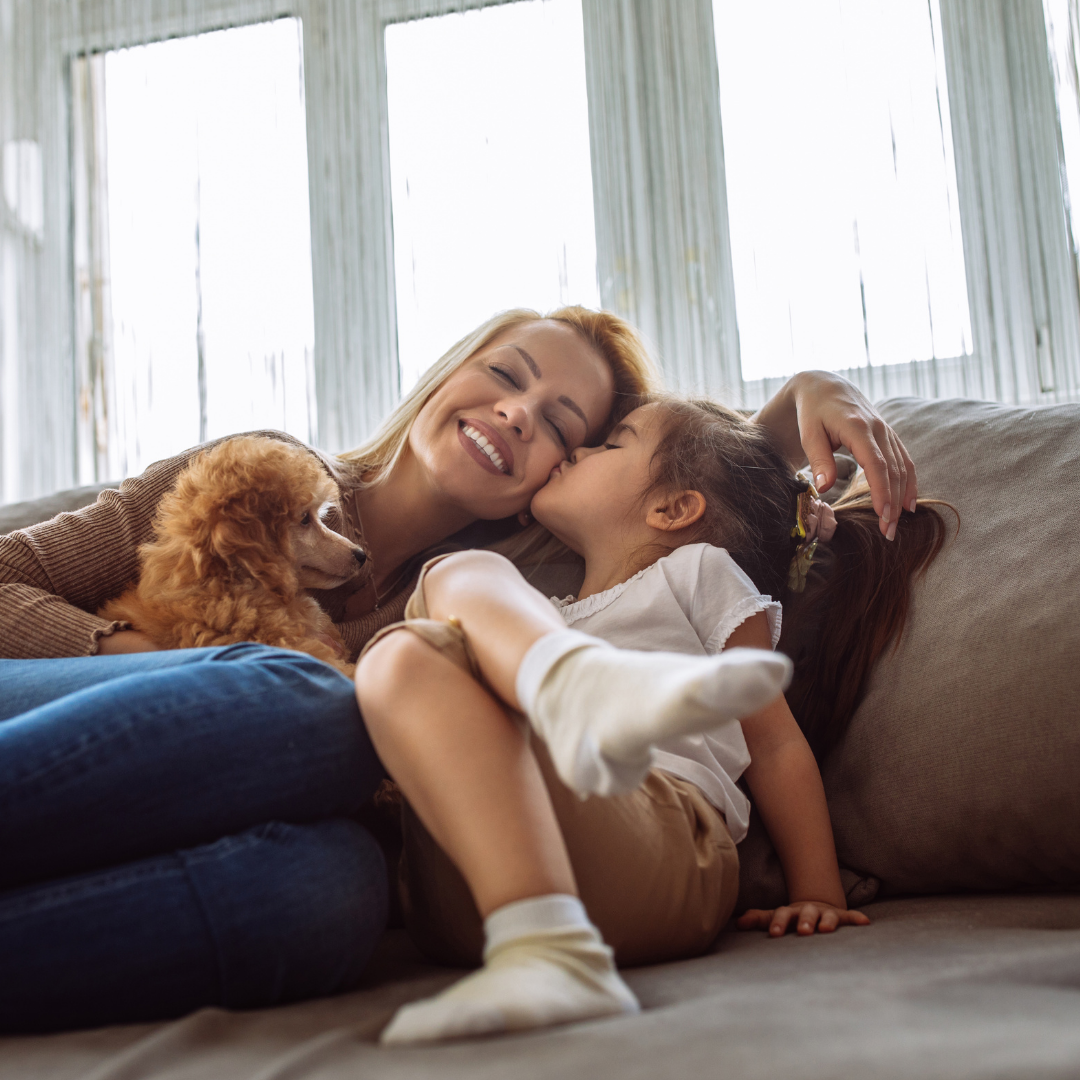 Practice healthfulness
The human body is a miraculous thing, and it should be appreciated for all that it gives us. Take a moment each day to be grateful for your health, even if it isn't perfect. Then make a plan to maintain your good fortune or seek ways to improve what isn't optimal. This can be things like taking time to meal plan a healthy diet or working in some time to hit the gym in your Charlotte, NC apartment.
Look outside yourself
Sometimes all it takes to be thankful for your own blessings is to help bestow them on others. Doing volunteer work is an excellent way to look outside yourself while also lending a helping hand to those struggling within your community. There are plenty of ways that you can give back, no matter your strengths or skill set. Most people say that when volunteering, they gain more than they give.
Mind your words
One way to keep your mindset positive is to mind the way you are talking, both out loud and in your own mind. If you are constantly looking for and pointing out the negative, that becomes all that you see. Every time you catch yourself with a complaint, immediately follow it up with a positive.
Fake it 'til you make it
There will be days that you will simply not feel very grateful or thankful! Everyone has those downer days, and there is no failure in waking up on the wrong side of the bed. But, if you want to maintain your aura of graciousness — sometimes you have to fake it! However, what usually ends up happening is at some point in the day, you are no longer faking. It sort of sneaks up on you!
Fill your mind with good stuff
The things we consume can change our outlook. Look around your Charlotte, NC apartment, and make sure that you are filling it with things that you love and make you happy. Next, take a look at your social media feeds. If you have a negative Nancy or two on there who is bringing you down, go ahead and hide them for a little while. You may just find that a few simple adjustments to your physical and online spaces do wonders for your positive outlook.
Practicing thankfulness is a skill that you have to cultivate. Using these 10 tips, you should be well on your way!
Looking for more fall inspiration? Click here for a few cozy fall quotes!