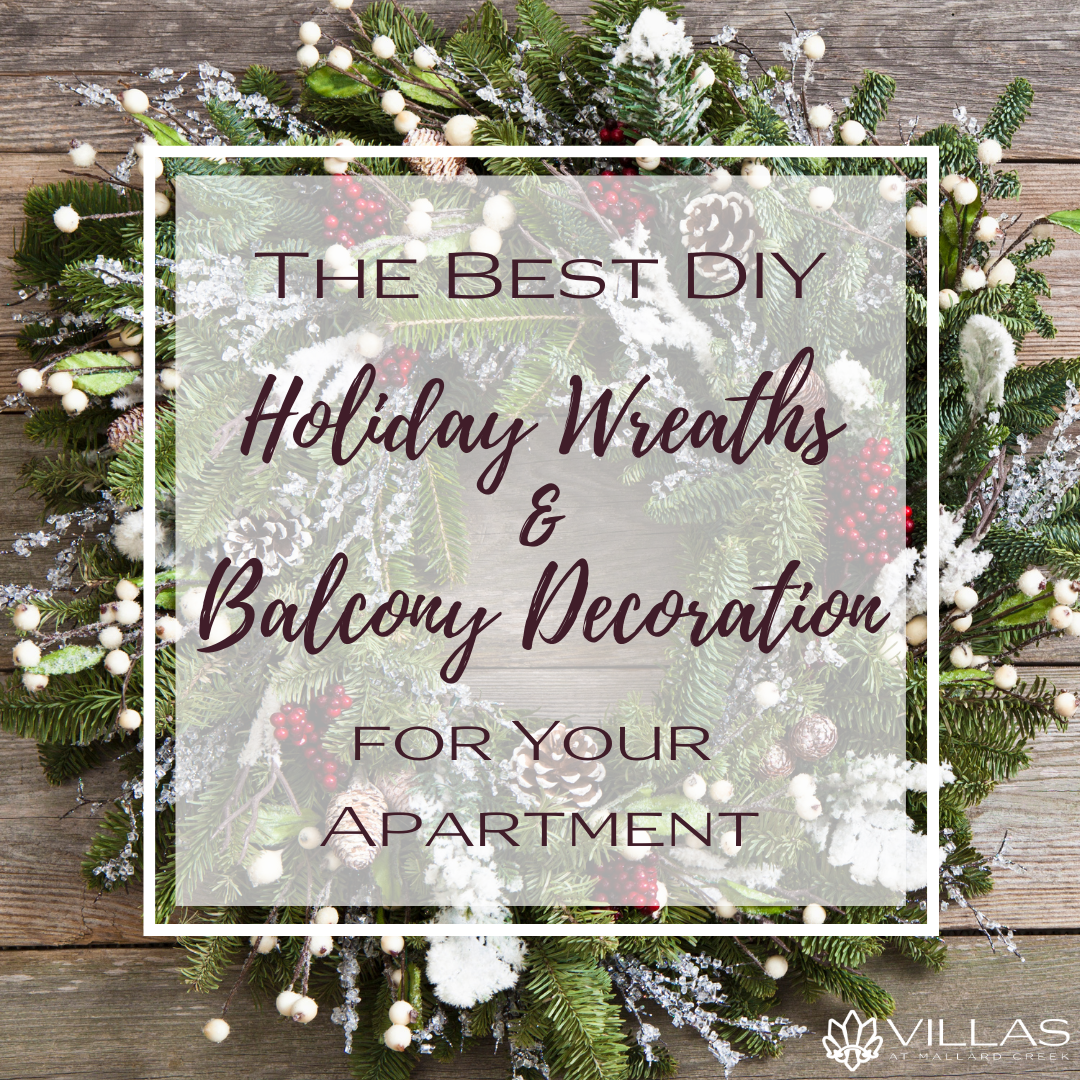 Now that the holiday season is moving into high gear, it is time to get your Charlotte apartment decked out in a festive holiday wreath and balcony decor. Wreaths are a beloved part of holiday decorating because they are a gorgeous reflection of the spirit of the season and sprucing up your balcony is a fun way to add even more cheer.
Going the do-it-yourself route allows you to customize your pieces so you get exactly what you want. Your unique style and preferences can really shine through! (Plus, it can be a fun family project as well.)
Getting Ready for a Holiday DIY Project
If you are a big crafter, you may already be well supplied to DIY all of your holiday decor! However, if you are diving in for the first time, there are a few things you may want to acquire. Head to your closest craft store, and pick out your supplies, things like greenery glitter, pinecones, seedpods, ornaments, ribbons, or tinsel — the only limit is your imagination!
DIY Wreath Ideas
A few minutes on Pinterest, and you will find thousands of wreath DIYs, encompassing every possible configuration of your craft supplies. You are sure to find the perfect piece to grace the door of your Charlotte apartment. However, to cut down on your search time, we have already compiled a few of our favorites below.
Asymmetrical Holiday Wreath: This adorable concoction of evergreen boughs and vintage ornaments uses a geometric metal base making it easy to customize. If you are someone who likes to have something up all year, you will love being able to switch out the decor to match the seasons.
Dollar Tree DIY Wreaths: Here you will learn how to make two different wreaths using supplies found at the dollar store which can really stretch your decor budget! One uses colorful plastic bulbs, and the other uses candy canes. Plus, they are easy and quick to assemble.
Embroidery Hoop Wreath: This wreath is a minimalist's dream, and the simple greenery can last the entire winter season — not just the holidays! Break out your hot glue gun, and you will have this put together in no time!
Free Pine Wreaths: This DIY shows you how to harness Mother Nature and decorate for free! Plus, to gather your supplies, you get to spend a day out hiking in the woods! No form is needed with these rustic pine wreaths.
Botanical Wreath: This "upcountry" wreath uses greenery, florals, and dried oranges for a sweet-smelling DIY that is sure to have your neighbors complementing your bespoke decor. The techniques needed are easy to master, and you should be able to whip this out in a single afternoon.
Hanging Your Wreath
Now that you have DIYed the perfect wreath for your front door, you need to actually hang it there. Since you are renting your Charlotte apartment, you don't want to start drilling holes in the front door. Instead, you will want to purchase an adjustable wreath hanger or some command hooks to get your holiday decor in place. You can find hangers of different sizes and colors at Target, Walmart, Amazon, or likely any store that is selling holiday decor.
Sprucing Up the Balcony
Now that you have your front door taken care of, we can shift focus to your balcony. Just because you live in an apartment doesn't mean you can't show off your holiday spirit! There are several simple ways you can add some cheer.
Lights: Adding a strand (or two) of outdoor lights is sure to brighten things up. Lights are available in many shapes and colors allowing you to get the exact vibe you desire. Just make sure they are actually outdoor lights so that you don't run into any issues.
Flowers: Depending on the weather forecast, you may be able to fill your balcony with poinsettias! North Carolina winters are often mild enough to support outdoor plants, at least for part of the day/ These flowers enjoy temperatures between 60-70 degrees, so you may need to bring them in at night when the mercury dips.
Garland: While you are picking up the DIY supplies for your wreath, you can grab a few extra garland strands to give your balcony railing a little bit of green as well. This can be especially cute if you spray it with fake snow, or you can combine the greenery with the lights for a day and night decor combo.
Ribbon: A colorful or sparkly ribbon can be a great way to add a splash of color to your balcony. You can weave it between the railings with minimal effort, but it will be a delight to all who pass!
With these DIY decorating ideas, your Charlotte apartment is sure to be a festive place this holiday season!
Looking for more great holiday ideas? You will love this blog post: How to Add Holiday Cheer to Your Charlotte Apartment.