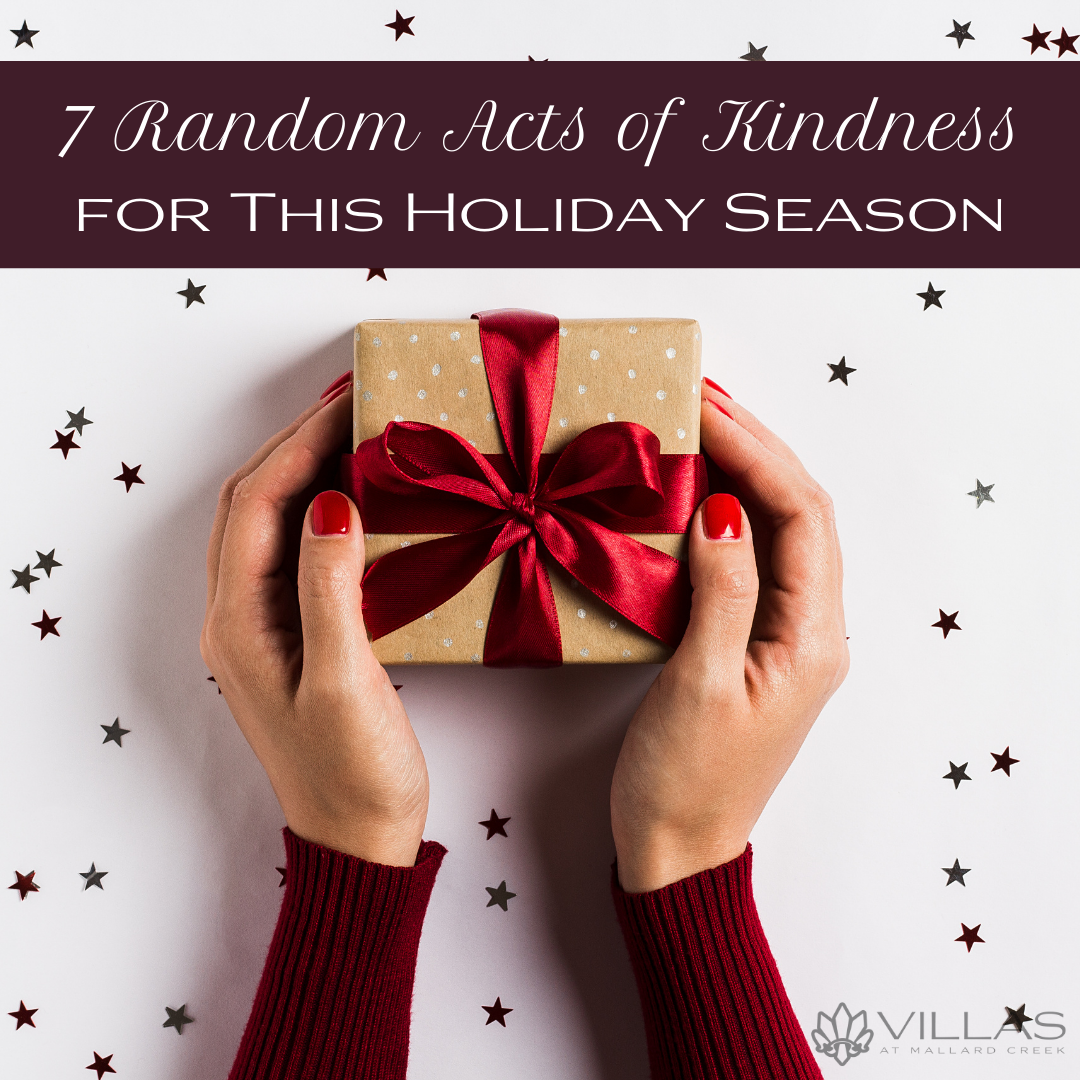 2020 has been a trying year for people all over the world which means everyone could use a little more kindness in their lives. No matter what holiday you are celebrating at this time of year, doing a little good for your neighbors — those in your Charlotte, NC apartment complex and beyond — can only make the season a little bit brighter!
Giving back, at any time of year, can be a rewarding experience, but that reward just seems to compound when you know you are making someone's holidays a little bit brighter. Who knows, your little act of kindness may even start a trend or chain reaction!
Here are 7 random acts of kindness you can employ this holiday season!
#1 Share Some Kind Words
It is easy to forget that words matter. How many times have you said something unkind that you later regretted? We all know that harsh words can leave a mark, but kind ones are equally impactful.
One way to spread some cheer this year is by putting those kind words to work! Take a few moments to write some sweet notes to the people you see every day, It will be a holiday gesture that they won't forget! People to consider are your favorite barista, the doorman at your work, or the cashier at your regular grocery store.
#2 Donate Household Goods
Before you start bringing in the new holiday gifts and goodies, try packing up some of the unused stuff you already have lying around and give it a new home. Chances are there is more than one closet in your Charlotte, NC apartment that could use some clearing out. Why not take your gently used goods to Crisis Assitance Ministry or even to the nearest Goodwill?
If you don't have time to run around town, you can use Give Back Box to make your donations. They provide a prepaid shipping label, and you can choose what type of charity you would like your goods to support.
#3 Participate in a Toy Drive
If your budget allows room to purchase a few extra gifts this season, consider participating in a holiday program that provides presents for underprivileged families. There are plenty of programs you can join! The Salvation Army, Toys for Tots, and One Simple Wish are all excellent programs that provide happiness to countless children over the holiday season.
If you are the organizing type, you could even round up the people at your office or church to participate together! A group of people may even be able to adopt an entire family for the season.
#4 Hand Out Gift Cards Anonymously
Another fun way to spread a little kindness is to play the role of Santa for your friends or coworkers. Purchase a few $5 gift cards from a local cafe or coffee shop (yay for helping small businesses too!), and then leave the cards in places for people to find.
You can stick them in people's mailboxes, leave them on their desks, or slip them in a coat pocket when they aren't looking. If you want to extend the fun, you could head to the local library and slide a few into random books for some lucky patron to find!
#5 Make a Large Donation
If you can afford to make a large donation to a worthy cause, now is definitely the time to do it! This year, a few hundred dollars could mean all the difference to someone. There are plenty of places that can help you find a worthy cause such as a local church or Crisis Assistance Ministries.
You could also consider giving to a medical charity like Miracle Feet which provides Clubfoot surgeries to kids around the world. Another option is the Himalayan Cataract Project which provides cataract surgeries to people in Nepal, Tibet, and other Asian countries.
#6 Be a Babysitter
Want a random act of kindness that won't cost you a dime? Make an offer to babysit for someone with small children — for free, of course. If you look around your Charlotte, NC apartment complex, you probably know at least one family that has small children. These parents could definitely use a few free moments this time of year whether it is to do some last-minute gift shopping, stocking up the pantry for those holiday meals, or just a little bit of time to relax with a cup of coffee.
Offering to play with the kiddos for an hour or two could relieve a lot of stress!
#7 Pay For the Person Behind You
A very popular random act of kindness at this time of year is the drive-thru surprise! Next time you are in line at Starbucks or even a fast food restaurant, tell the cashier that you would also like to pay for the person behind you.
This sometimes starts a chain reaction that can go from customer to customer. There was one Starbucks in Florida that had a chain going for 11 hours!
There you have it. 7 great ways to be a great human this holiday season. Random acts of kindness are just as good for the person doing them as the person receiving them. Here at the Villas at Mallard Creek, we love our residents and neighbors. We hope that the holiday season is merry and bright for everyone.