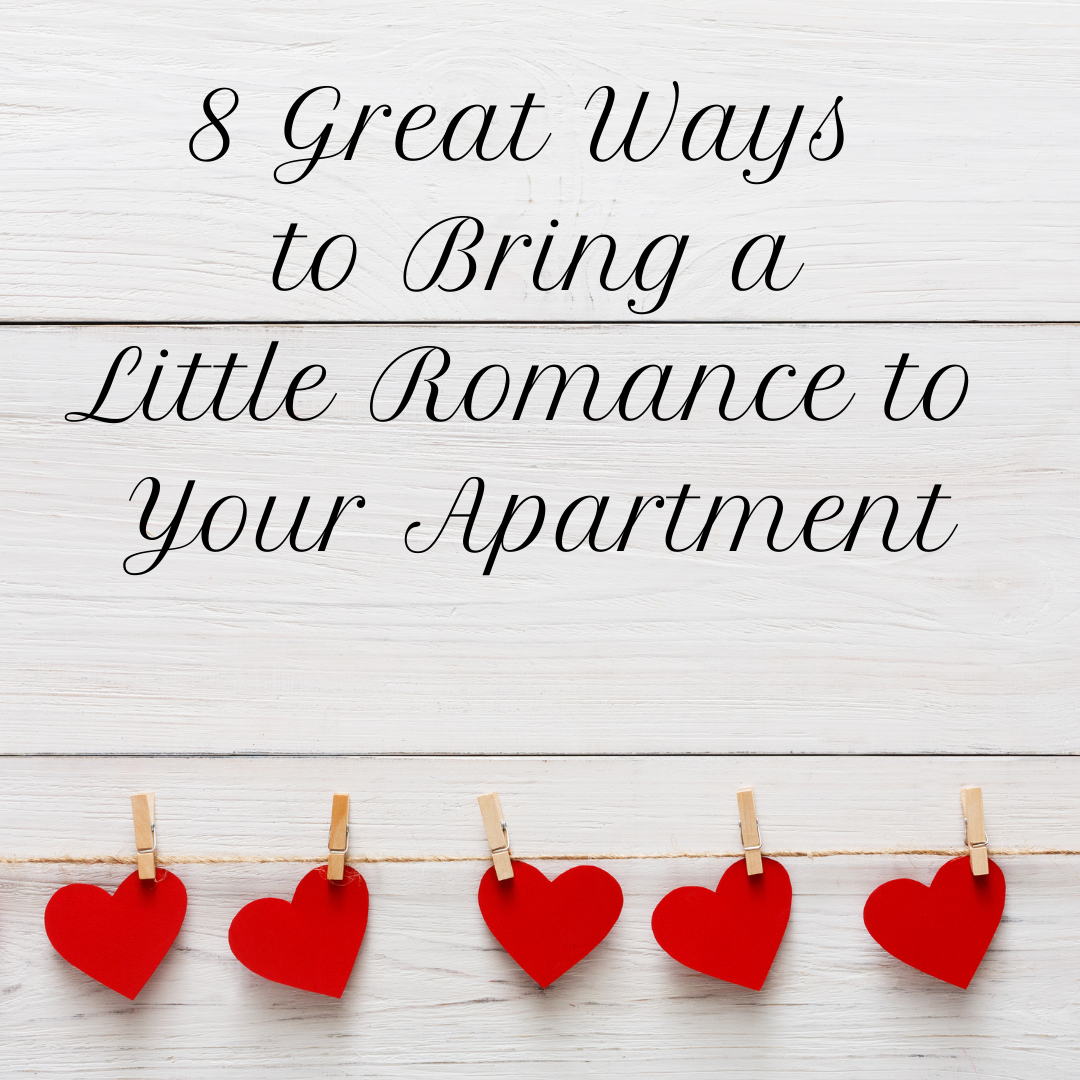 Valentine's Day is quickly approaching, and romance is in the air. While a weekend getaway or a lavish night out on the town are great ways to celebrate the love, sometimes, you find yourself stuck at home on February 14th. Don't fret! Just because you are keeping things low key in your Charlotte apartment, doesn't mean you have to skip the romance!
Here are 8 great ways you can bring the romance to your Charlotte apartment!
Living Room Picnic
Instead of a fancy date in a restaurant, this year you and your significant other can bring the fanciness to your home with a living room picnic. You can either put a blanket on the floor like you would in a park, or you could turn your coffee table into your dining table for the evening. Add a few soft pillows and cozy blankets to make the space feel more intimate.
Don't forget about the ambiance! Add a few candles, flowers, or other romantic pieces to your picnic area. Plus, when you lay out your spread of food, be sure to stock your favorite condiments, seasonings, and plenty of refills for your beverages. That way, you won't have to break the mood to grab the salt!
Create Some Atmosphere
With a little careful planning, you can sprinkle romance throughout your Charlotte apartment for a truly magical stay-at-home date night. Create a sultry playlist to kick off the atmosphere, and add a few candles or lamps so you can keep the lights at a lower, more romantic level.
Fairy lights (or even Christmas lights!) can add some ambiance to the bedroom, and make sure the bed is made with plush blankets and super soft sheets. You could both don a pair of silky pajamas just to feel extra comfortable.
Play a Few "Love Games"
To keep the mood sexy and fun, you and your partner could play a few "love games". No special equipment is needed as you can simply make up your own rules for games that you may already own.
For instance, if you have a deck of cards, you could assign an action to each number — fives equal a kiss. Then you lay the cards out like you are playing a game of Memory and start flipping them over! Think outside the box on this one, and you can easily come up with new romantic rules for all your favorites. Strip checkers, perhaps?
V-Day Scavenger Hunt
Another fun way to bring a little romance home this year is with a couple's scavenger hunt. Each of you can hide the other's Valentine's Day gift somewhere in your Charlotte apartment. Then you will both create clues that the other has to figure out in order to find their surprise.
This can be silly or serious depending on your mood!
Dessert and Love Letters
Another great way to add in a little at-home romance is with a sweet evening full of decadent dessert and sentimental letter writing. Stock up on your favorite bakery items, whip up a from-scratch pie, or break out the trusty fondue pot.
After setting up your dessert station, you can set up your stationery supplies. Pretty paper and pens in both of your favorite colors can be used to write personal, heartfelt letters to each other. This date night activity will turn into a keepsake that you can treasure for years to come.
Learn Together
There is nothing sexier than intelligence, right? Use your collective brainpower to do a virtual class on your romantic at-home date night. There are endless options when it comes to online classes! You could cook a fancy meal, learn a ballroom dance, or even take some music lessons if you are so inclined.
Spa Day
You and your sweetheart can let things take a sensual turn with a DIY spa day. Make each other spa kits full of lotions, masks, bath bombs, and scrubs. Then you can take turns giving each other treatments.
Spa day activities can include simple things like face masks, massages, and soaks in the tub. However, if you are feeling confident in your skills, you could even try manicures and pedicures!
DIY Wine Tasting
For those that like to enjoy a good bottle of wine when they go out, a DIY at-home wine tasting may be just the thing for a romantic evening in. You and your partner could both pick a couple of favorites styles to try.
Plan to have a few items that pair well to nibble on. You could set up different stations around your apartment for the different wine pairings to make things even more fun. A few unique pairings you could try are Shiraz and gouda, Merlot and mint, or Chenin Blanc with Wasabi.

---
If you were feeling discouraged about a Valentine's Day spent at home, it is time to perk up! As you can see, there are so many fun ways that you can bring a little romance home to you! Go ahead and plan one (or more) of these Valentine's Day activities for you and your partner!
Ready to find the perfect Charlotte apartment for you an your special somoeone? We would be delighted to introduce you to the Villas at Mallard Creek. Click here to see a few property pics… or stop by for a tour!