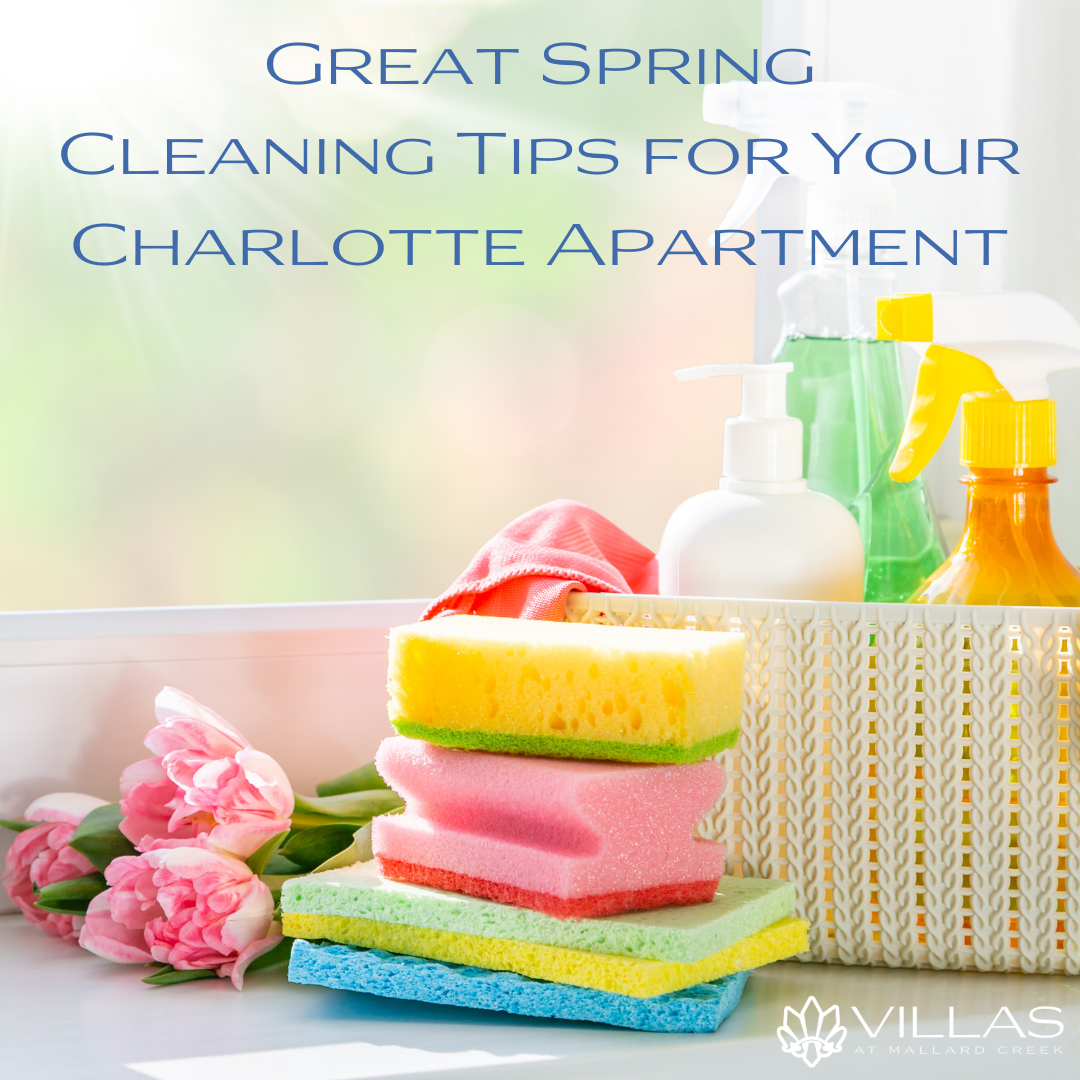 If you are feeling the spring-cleaning bug, you may be wondering where to begin. The good news is getting your Charlotte apartment whipped into shape isn't too difficult of a task. With these great spring-cleaning tips, you will have your place sparkly clean and smelling fresh in no time.
Before you dive in, it is a good idea to make sure you have the tools on hand that you will need. The chores will go much quicker if you have the proper supplies. We recommend grabbing microfiber cloths, rubber gloves, all-purpose cleaner, bathroom cleaner, a dry mop, and a vacuum with attachments.
Dealing with Pet Hair
If you share your Charlotte apartment with a four-legged family member, you may need to tackle the pet hair situation before you can move on to any of the other cleaning tasks. It is probable that your carpets, furniture, and bedding are all in need of a little de-hair-ing!
If you attempt to tackle it with your vacuum, you may simply end up with a clogged machine. One of the best ways to tackle pet hair is actually with a shower squeegee! It makes it super simple to rid your carpet of hair by the clump. Then once you've got it down to a manageable degree, you can bring out the vacuum.
Cut Out the Clutter
Once the pet hair is under control, you will need to take a good hard look at your belongings. Having clutter covering every inch of your home makes it that much harder to spring clean, and it also makes it harder for the day-to-day chores as well.
It is a good idea to tackle the clutter one room at a time so that you don't get overwhelmed, but you should feel free to go all Maria Kondo on your place! Once you have removed all those old magazines, the half-read books, and the pile of POP figures, you will be well on your way to a properly spring-cleaned apartment.
Be sure to donate as many items as you can and recycle anything that can be recycled. If you want to try and make a few extra bucks, you could also list some items on eBay or Facebook marketplace.
Start from the Top
Now, the cleaning has really begun in earnest! Start from the top of each room and work your way to the bottom. For instance, clean your fan or light fixture before dusting the coffee table. This way you won't get dust on the spaces you've already cleaned.
Want a great tip for cleaning a ceiling fan? Use a pillowcase! Simply spray the inside of your pillowcase with a little of the all-purpose cleaner, then wrap it around each blade of the fan pulling the case from the center to the edge. This will keep the majority of the dust inside the pillowcase which can then be tossed in the washer. Easy peasy.
Disinfect Your Sponges
If you are using any sponges to clean the wet areas of your Charlotte apartment (kitchen and bathroom), then you will need to disinfect them after each use. You don't want to clean a toilet and then take that same sponge to the kitchen counters. Yuck!
But that doesn't mean you have to toss a sponge after a single use. In between sections of cleaning, you can wring your sponge out and then toss it in the microwave for about a minute. This will kill pretty much all of the bacteria that you swiped up.
The Window Treatment
Now that the chill of winter is fading, you will probably find yourself opening your windows and letting the fresh air in. Before you do, it is a good idea to rid your window treatments of the dust and dirt of the wintertime.
For your curtains, you will want to check the tags to see if they are machine washable. If they are, go ahead and pop those guys in the laundry. Blinds, unfortunately, are not that simple.
One solution is to take them down and give them a good scrubbing in the tub! This is probably the easiest method as you can use the showerhead to rinse them off, and you can leave them in there to drip dry.
If you just can't bring yourself to clean all the blinds in your Charlotte apartment, check Groupon! There are often cleaning services running specials on deep-cleaning items such as blinds, baseboards, and walls.
All the Extras
When spring cleaning, you want to make a point to get all those nooks and crannies that get missed the majority of the year. Things like light switches, door handles, and remotes should be given a good wipe with a little disinfectant.
Now that you have all these cleaning tips at the ready, you should be able to knock out your apartment in just a few hours. Then it will be nothing but carefree springtime fun!
If this Spring finds you in need of an amazing apartment, be sure to stop by for a tour. Click here to see our selection of floor plans at Villas.