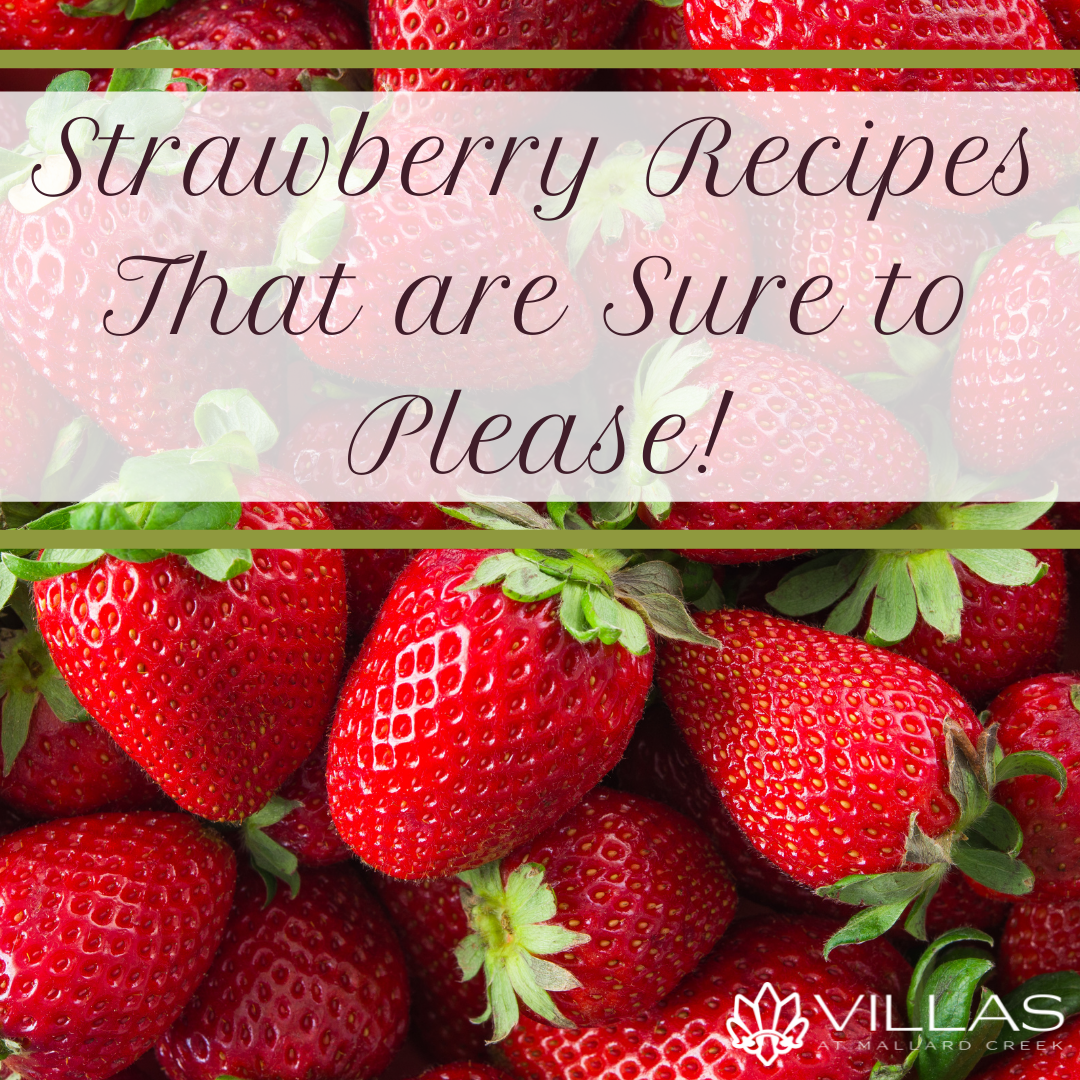 Chances are you've just experienced strawberry picking season or are right in the midst of it. Whether you were able to go out and pick some on your own or not, your local grocer should be carrying these succulent delights in abundance. The best part about using produce in its harvesting season is how tasty it is. Not to mention the cheaper prices, and lower impact on the environment. Sounds like a win! Depending on what suits your fancy, you'll find something for you in the list of recipes below. It's time to fill your Charlotte, NC apartment with the tantalizing smell of strawberries.
Best Homemade Strawberry Shortcake
Is there anything better than perfectly baked shortcake overflowing with strawberries and topped with sweet cream? I'll wait. Nope! This recipe has had all the kinks worked out of it, so you can just follow step-by-step and enjoy your perfected labor of love. The surprise ingredient in the biscuits of the Best Homemade Strawberry Shortcake is a game-changer!
Strawberry Shortcake in a Jar
For those times that you just want to have a quick treat, this is the recipe you need. All you have to do is collect the ingredients, whip up some cream and assemble in a sweet mason jar and you're all set! The winning presentation of this Strawberry Shortcake in a Jar will be just what you are looking for to end a meal at your Charlotte, NC apartment or to complete a picnic with friends.
Strawberry Pretzel Bars
Speaking of picnics, this recipe takes the cake – well, not literally, but you know what I mean. This nostalgic recipe is the perfect summer treat that will take you back to a simpler time. The layers of salty pretzels, creamy filling and strawberries are not only the perfect combination of flavor and texture, they are just so pretty to look at too. Strawberry Pretzel Bars is going to be your new/old favorite way to use strawberries.
Strawberry Banana Sorbet
Looking for something quick and easy and refreshing? This three-ingredient sorbet is right up your alley. You just need to freeze your strawberries beforehand and use your blender to combine these ingredients for a satisfying, summery treat. Kick up your feet, lean back and savor this Strawberry Banana Sorbet and remember what summer is all about.
No-Bake Strawberry Cheesecakes
Creamy, tangy, smooth and sweet. What's not to love in a dessert like that? Oh – and you don't even have to use your oven! This is a MUST when it's summertime. No need to heat up your Charlotte, NC apartment, if you don't have to. You will not miss the oven when you taste these No-Bake Strawberry Cheesecakes! Guaranteed.
Honey Roasted Strawberries
Now, here's one you will want to break out the oven for. Honey. Roasted. Strawberries. Come on! This will be the perfect topping for your favorite ice cream or yogurt, or even a salad. Branch out and try a new preparation of strawberries. Give the ultimate summer fruit another chance to shine.
Strawberry Butter
It's not often that you see the words "strawberry" and "butter" together, but after making this condiment you won't be able to unsee this brilliant combo. Whatever type of bread you're into will thank you for spreading Strawberry Butter across it. Imagine your morning meal transformed. That'll put a smile on your face.
Strawberry Overnight Oats
For another breakfast option, try these Strawberry Overnight Oats. The best part, is that you prep it completely ahead of time. Your morning self will thank you. True strawberry flavor and creamy oats are a charming indulgence that feels more like dessert than breakfast.
Chocolate Cheesecake Stuffed Strawberries
Do you need a keto option for your strawberries? These Chocolate Cheesecake Stuffed Strawberries can be made as a traditional dessert, or with simple modifications can satisfy your sweet tooth without putting you out of ketosis. They look so fancy, because the sweet strawberry is front and center, and the chocolate cheesecake filling plays a supporting role. What's not to love about a pretty treat that can support your dietary needs?
Strawberry Salsa
Last, but not least, is a fun departure from normal uses for the strawberry. This Tangy Pineapple Strawberry Salsa will have you screaming for more. You can play off its subtle sweetness by using a sweeter accompaniment like cinnamon pita chips or highlight its spicy nuances with a typical salted tortilla chip. Give this salsa a try. You will not regret it!
From the first warm day of the year until sweater weather, strawberries can brighten any meal you eat in your Charlotte, NC apartment. Hopefully, you found a couple of options here that will liven up your go-to uses for the strawberry. Just for fun, invite a friend or two to enjoy them with you, and plan a casual meal inside or outside. Strawberries are the perfect excuse to get together and savor the season.