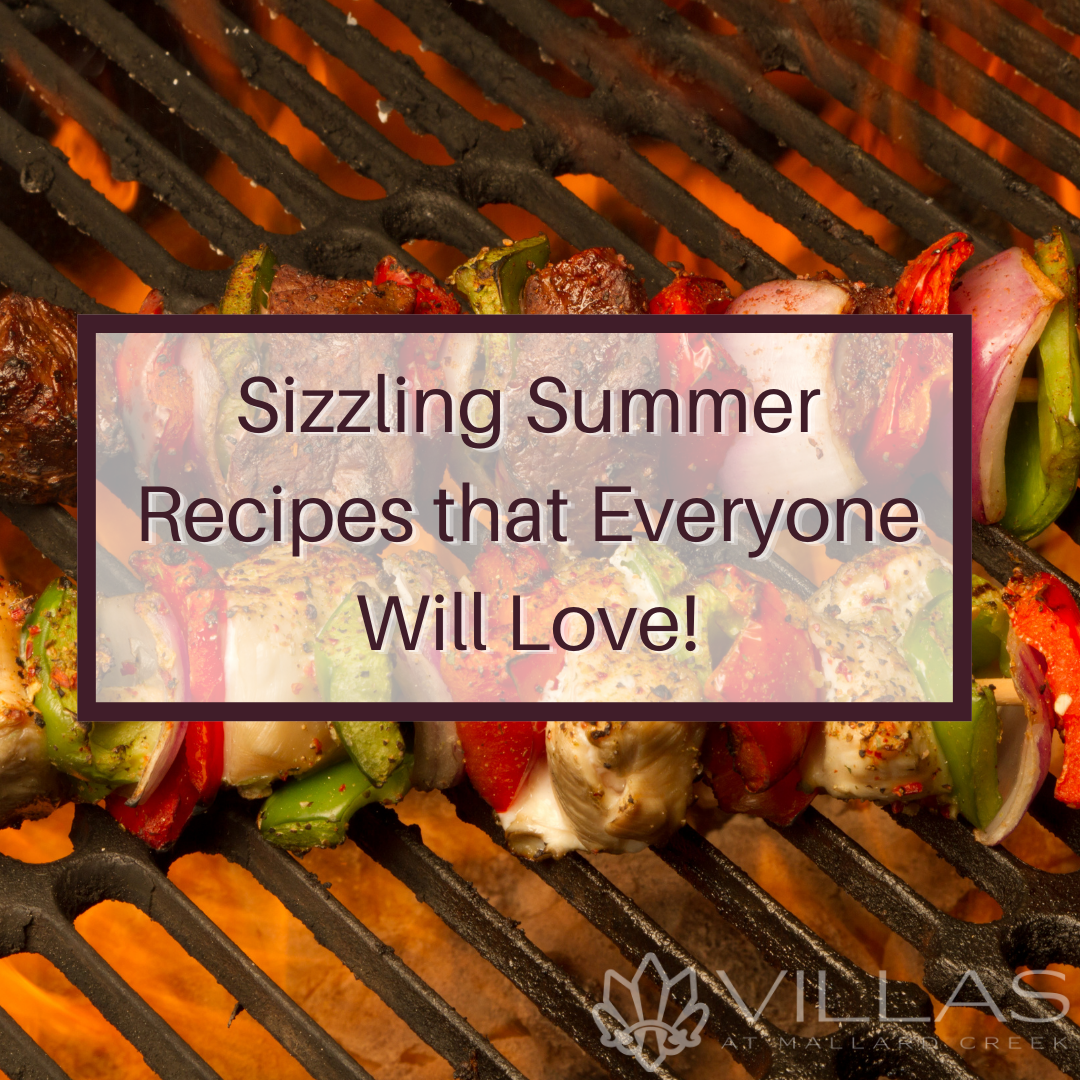 You may be telling yourself, "It's time to liven some things up in the kitchen." With all of the summer produce available and the warmer weather, you may be thinking that your regular menu needs some flavor, but you want to make sure everyone will be happy. You are not alone! Whether you're in the mood for a new grilling recipe or a fresh take on a summer side, partake of the summer bounty available around your Charlotte, NC apartment and make something new today everyone will love.
This salad is a MUST try if you love watermelon. Don't get me wrong, watermelon is great on its own, but the combo of fresh herbs and arugula with this fruit will awaken your palate and keep you from getting bored. It's the perfect dish to present with a heavier grilled dish or bring to a picnic. You will not regret introducing this beautiful and flavorful Arugula Watermelon Salad to your table.
Ooh – this chicken is soooo good! There's just something about the perfect balance of acid, heat, salt and fat and this recipe has it. The marinade is super easy to make, and there are some great suggestions of accompaniments, like mango avocado salsa and cilantro-lime rice. You will be thinking about this Cilantro Lime Chicken for weeks after serving it.
Don't you just love it when corn is in season? It's so tender and crisp and sweet. If you love fresh corn, you will fall in love with this pasta salad. What is it about a cold pasta salad in the summer? It just hits to the spot. Leftovers (if you have any) will be a perfect complement to any quick lunch at home or on the go. This Street Corn Pasta Salad will be something you will go back to again and again this summer.
If you have kids around your house, you know how much they love to go for finger friendly foods. Who needs a fork when you can pick it up and eat it? These chicken drummies are not only kid approved, they are satisfying to grown-ups as well. They have a no-brainer sauce and are finished in no time. You will keep everyone happy with these Chicken Ranch Drumsticks on your menu this summer.
If you've got a little more time on your hands, these Steak Kabobs are the perfect fun and tasty dish to try this summer. Your Charlotte, NC apartment will be hopping as you assemble and devour these delectable bites. The visual appeal of rows of meat, potatoes and veggies all in a row, dripping with flavor will kick "boring" out the window when it comes to your summer food choices. Plan to make these Marinated Steak Kabobs this week.
What's not to love about tacos? Especially when the filling is that perfect balance of grilled flavorful shrimp and crunchy, bright slaw? Did your mouth just start watering? Sorry/not sorry. Shrimp cook so quickly, once you have all the ingredients assembled, it takes mere minutes for your meal to get from grill to plate. Everyone has time for these Grilled Shrimp Tacos.
When you get a hankering for a meal that will be the star of the week, turn to these stuffed pork chops. You'll find a fun combo of sweet and spicy, creamy and carmelized. The recipe suggests buying pre-marinated meat, but you could easily do your own brown sugar-cinnamon marinade, if you'd prefer another meat for your dish. These Jalapeño Popper Pork Chops are sure to be a bright spot in your summer meal plan.
Last, but not least, here is a strictly vegetarian option. The complement of balsamic vinegar with the char of the grill is beyond compare. Whoever said the grill was just for meat, has not had properly grilled veggies. Grab some options from your garden or any local grower, toss them with this marinade and throw them on the grill. You will not be sorry. Your food spread will be much improved by adding these Balsamic Grilled Veggies to your meal.
Summertime is a great time to break from the norm. With all of the options here, you are sure to find something to stir up your own creative juices. Your Charlotte, NC apartment will be filled with the aroma of happy foods and the sounds of happy eaters. Embrace the season and bring the joy of summer to your table. Enjoy!