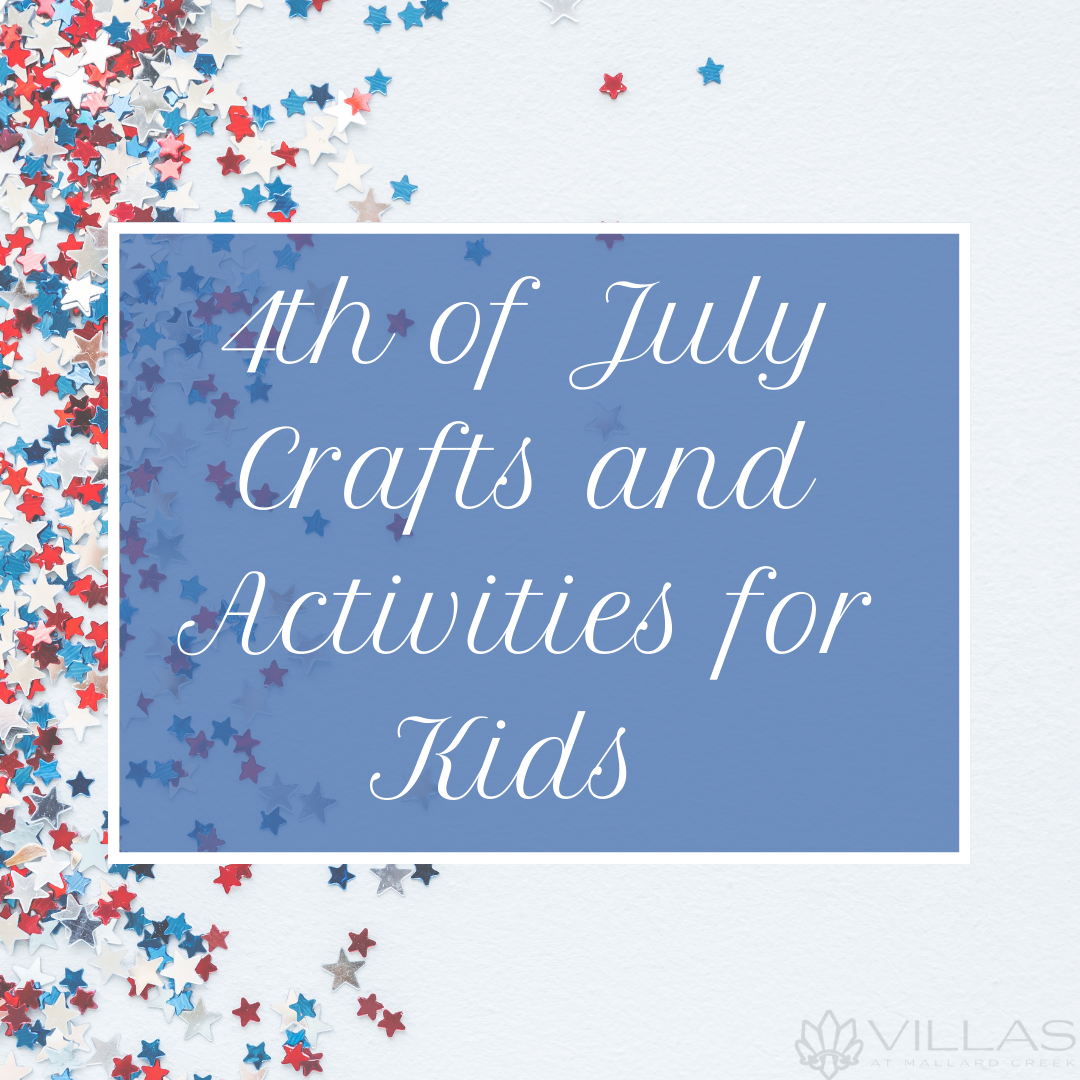 Happy Fourth of July! It is the best time of year to celebrate freedom and family. Fill your Charlotte, NC apartment with patriotic festivities and crafts and (BONUS) get your kids in the mood to celebrate. You'll find a variety of options to use depending on your energy level and time available. Some of these involve printing out activities or heading outside or creating a craft. There's something for everyone!
You'll love the cute graphics on this free printable bingo set. You can even laminate the set to make it last longer or just keep it unlaminated and use paint or crayons instead of bingo chips. Check out the link for this 4th of July Bingo set for more bingo marker options.
This craft is so easy – anyone can do it! All you need is a few toilet paper or paper towel rolls, some paint and construction paper. Read the post for some helpful tips and enjoy your Toilet Paper Roll Firework Painting in no time.
Have you ever done a Mad Lib? It's just a word game with a story that's missing words. One person writes in suggestions (the crazier, the better!) from other players, usually based on parts of speech (nouns, verbs, adjectives, etc.). When all the blanks are filled in, the writer reads the entire story with all the mismatched words, and everyone has a great laugh. This would be a great way to fill in time spent waiting for food to be ready or chilling out after some time in the pool. Choose one or all of these 4th of July Mad Libs and be prepared to make some silly memories.
Are your kids active? Do they love Lego? These are the best activities for making something fun to play with. You'll find a few different ideas including a ping pong ball launcher and patterns for making Lego flags. These Fabulous July 4th ideas will keep you busy for days.
This cute wind catcher is perfect for hanging outside your Charlotte, NC apartment window. With just a few supplies like paint, a paper plate and some scissors, you'll be festive in no time. This Patriotic Wind Catcher will get you in the celebratory mood faster than you can say "stars and stripes!"
This ice melt activity is the ultimate way to cool down outside and burn off some energy at the same time. Plan ahead and save a half gallon milk carton to use for the mold. Find some red, white and blue objects and voila – a simple activity that is on theme! You'll have so much fun, you'll be inspired to think of new things to freeze for the next time you want to do this 4th of July Summer Science Ice Melt.
Here's another simple project that will turn out so cute! You need a few art supplies and just a teensy bit of patience. Your kids will be so excited to see how the salt and watercolors react to create the effect. If you don't want to print the Fireworks Template, your kids can just draw the fireworks shape as well.
If you have some older kids that like to do word puzzles, these activity sheets are a fantastic alternative to screen time. You could even use them to see who can do them the fastest. These 4th of July Activity Printables are free and super cute!
If you have younger kids, this project is perfect to keep track of how little their hands are this year. You can get these supplies and have some fun painting outside with your kids. How cute will these be on your holiday picnic! These personalized Fourth of July Patriotic Flag Towels will be a huge hit.
This project is just adorable! Just pick up some light green paint, tissue paper and a few household items. The pattern is easy to follow, and will be a cute centerpiece for your Fourth of July table. Have fun with this Statue of Liberty Crown and Torch Noise Maker.
Don't you love watching fireworks!?! It's so fun to hang out and wait around for the sun to set, unless it's not. These games are perfect to fill the time between set-up and sun-down. Have a blast with these 4th of July "Mom Hacks" Blanket Games.
Here's one last printable that is perfect for your patriotic celebration. Kids and adults will have fun searching for all the items while they wait for food to be ready or for when it's time to head out to watch the fireworks. You might even want to prepare some prizes for the crew who joins in on this Red, White and Blue Scavenger Hunt.
This festive craft is just the thing to unleash your kid's creativity. They'll love bringing out the glitz and glam of fireworks in one simple project. Save some of those popsicle sticks or grab a couple different sizes from the craft store, some paint and decorations and that's it! They can go as fancy or as simple as they'd like. These Popsicle Stick Fireworks are just the thing to make your setting glittery and festive.
That's it! No matter the energy level you're at or how much time you have to hunt down craft supplies, you'll be enjoying the 4th of July with your kiddos in your Charlotte, NC apartment like a boss. Have a blast!