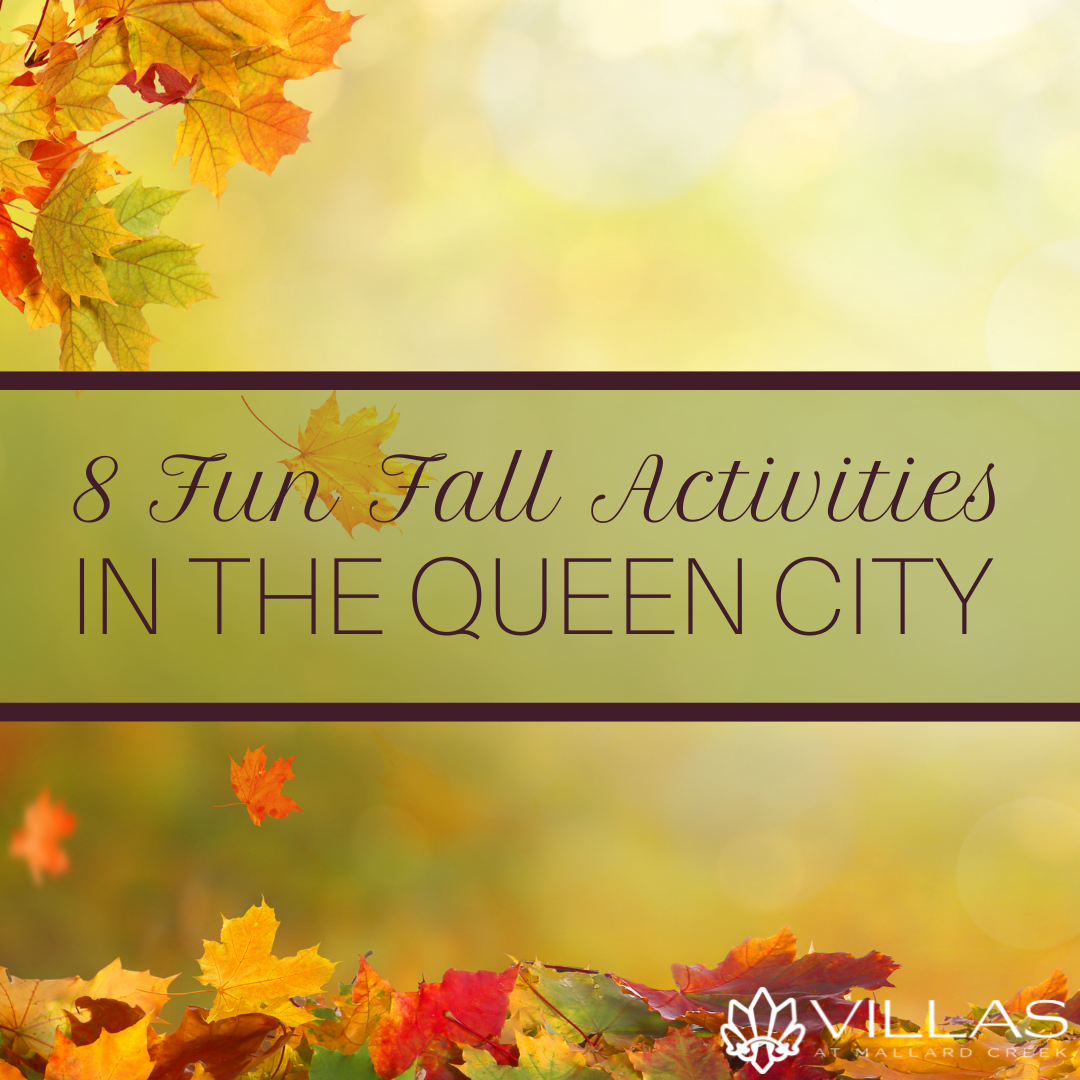 The heat of summer has not quite left us yet, but that doesn't mean you can't start planning your fall activities! Once the temperature dips just a little, you will probably be ready to head out of your Charlotte, NC apartment and experience the city.
To keep you entertained all fall long, just follow this guide of 8 fall activities in the Queen City!
Drive-Thru the Yiasou Greek Festival
From September 9-12, you can enjoy your fill of delicious Greek food like the baklava sundae at the Yiasou Greek Festival. This annual Charlotte event will be a drive-thru only experience in 2021.
Since its start back in 1978, this festival has grown to become one of the city's biggest cultural events. In a typical year, it is full of entertainment, dancing, live music, wine tastings, shopping, and art exhibits…and of course the FOOD!
Enjoy Yourself at the Whitewater Center
What better way to close out the summer than with a few hours spent at the U.S. National Whitewater Center? You will be so glad you ventured out of your Charlotte, NC apartment when you spend some time walking the trails, doing outdoor yoga, or just grabbing a beer at one of the many bars.
Don't miss the live music at one of the many River Jams lined up through September and October. You can catch local and regional bands like The Red Clay Strays, Anya Hinkle, and Brother Smith.
Take a Road Trip for Foliage
If fall "color" is your thing, there are so many day trips that you can take from the Queen City to see those leaves changing from green to the fall hues of orange, yellow, and red! Some of the best places to catch the color are around the Blue Ridge Parkway including Bryson City, Blowing Rock, and Linville Falls!
While you're down that way, you may want to stop in Hendersonville, NC for the annual Apple Festival which takes place each year in September. Leading the state in apple production, Henderson County welcomes 14 local growers to the festival each year.
Watch Some Jousting
Cooler weather in Charlotte also means it is time for the Carolina Renaissance Festival! Each weekend in the Fall, you can head to Huntersville where a 16th-century village has been recreated. You will find art, crafts, entertainment, and so much tasty food! Plus, you can watch a live jousting tournament and cheer on your favorite knight!
Feel free to come in period costume and eat, drink, and be merry!
Indulge in Hard Apple Cider
If you don't make it to the Hendersonville Apple Festival, you can still partake in your fair share of apple-flavored goodies at the Windy Hill Orchard & Cider Mill. Located a short drive from your Charlotte, NC apartment, Windy Hill offers a hard cider bar, hayrides, live music, and freshly made apple cider doughnuts.
You can do your own apple picking sometimes when weather and crop conditions allow for it, but even if you just want to relax, you will have plenty of fun at Windy Hill.
Stroll Through the Botanical Gardens
While the heat and humidity of summer may keep you from visiting some of the outdoor spaces around the city, fall weather means it is time to take advantage! Head to the Daniel Stowe Botanical Garden for a relaxing afternoon full of beautifully landscaped gardens.
The garden is open to the public every day except Tuesday from 9 am to 4 pm. If you head out on the first Thursday of each month (through October), you can catch "Jazz at the Garden".
Wonder at Hot Air Balloons
On October 15, 16, and 17, you can take the family to Statesville, NC for the Carolina Balloonfest. This rain or shine event promises to be a great time with plenty of balloon-related activities including balloon flights and tethered rides.
This event has been an area favorite for several decades. In addition to the balloons, you can also experience other exhibits and activities, shopping for artisan crafts, and sampling NC wines and beers.
Enjoy Chills and Thrills at SCarowinds
No list of Charlotte fall activities would be complete without mentioning the largest Halloween event in the Carolinas: SCarowinds! From haunted mazes, undead entertainment, and scare zones, you can battle the hordes of zombies and escape the vampire's grasp on your way to ride the park's roller coasters.
SCarowinds attractions include the Blood Yard, Boo Blasters on Boo Hill, CarnEVIL, and Depths of Darkness. Plus, you can still enjoy yourself on the many rides like the Intimidator, Fury 325, and the Carolina Goldrusher.
Ready to Enjoy Your Fall?
Don't let the passing of another summer keep you cooped up in your Charlotte, NC apartment! The Queen City has so many fun fall activities to keep you entertained, you may never want autumn to end.