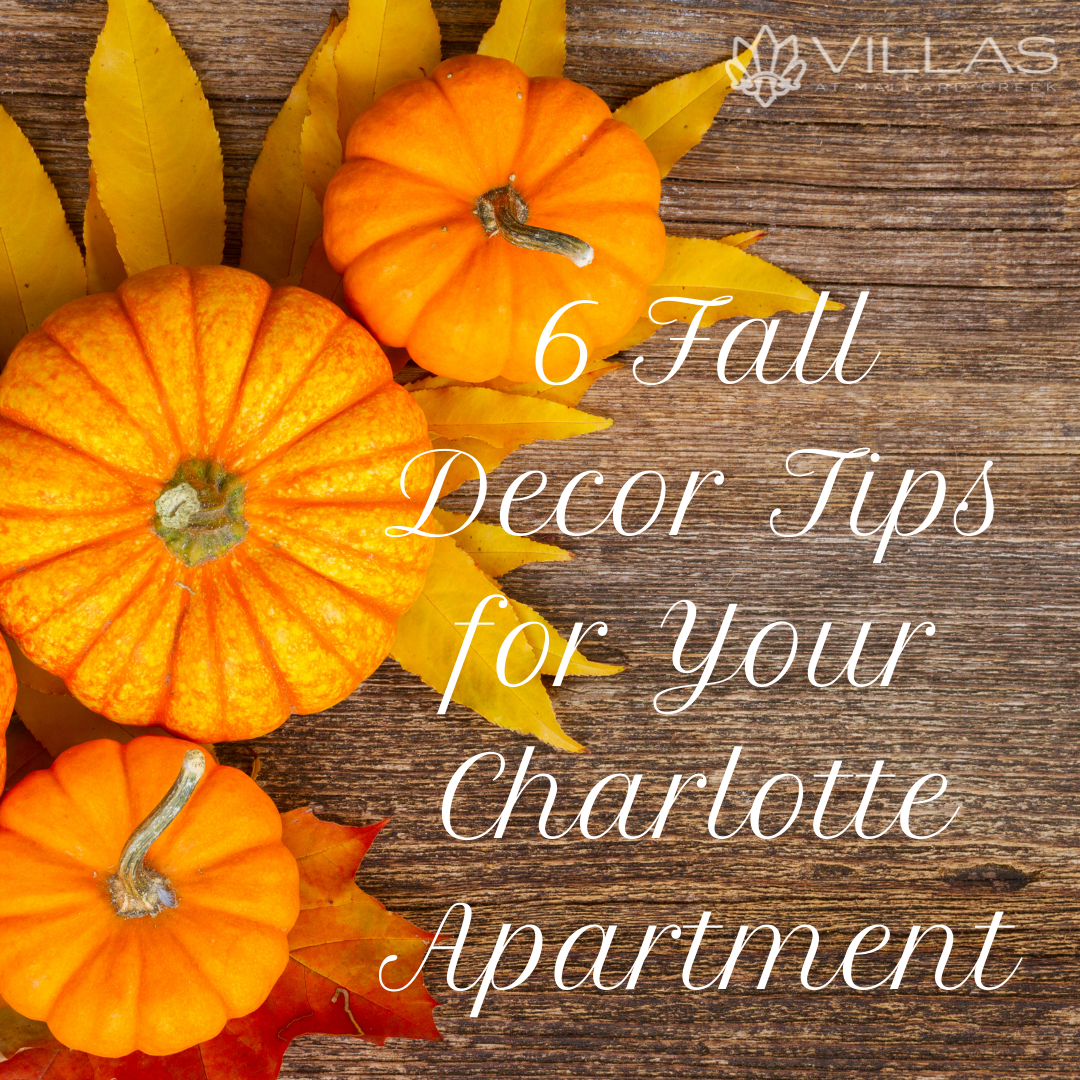 The pleasure that comes from getting cozy with a mug of hot apple cider on a brisk fall day is one that even the most avid summer lover cannot deny. With the pumpkin-carving season knocking on the door, it is time to get your Charlotte apartment feeling all of the fall vibes.
Since this time of year generally means more evenings spent at home, you will want to make yours as festive as possible. Whether you are looking to add orange and brown to every corner or just want a little bit of autumn flair, these fall decor tips are exactly what you need.
Pumpkins, Pumpkin, Pumpkins!
When it comes to fall decor, nothing quite sums up the season like a pumpkin. They are quite literally the quintessential fall accent! You can find pumpkins in various sizes, shapes and colors naturally, but there is also the option to paint them to match your current color schemes. Plus, if you aren't interested in having real pumpkins adorning your tables and counters, you can opt for glass or plastic ones which can be found in abundance at craft stores, Target, or on Amazon.
Adding pumpkins to your decor is very simple. You can simply place them on your countertops, add them to a centerpiece, or plop them down on a bookshelf. If you have little ones, they will also enjoy painting or carving a jack-o-lantern for the front door.
Fall Colors
As the leaves start changing outside, you can start adding fall colors to the inside of your Charlotte apartment. Yellow, red, orange, and brown are all perfect for the season. Plus, it is very easy to add these pops of color to your decor.
Switch out the throw pillows on your beds and your living room furniture. You can add a cozy throw blanket in one of the fall tones to the foot of your bed, and you can also change out your placemats on your dining table or bar. If you really want to go for it, you can also change out your kitchen and bath towels to match the fall tones.
Think Cozy
Along with the crisp fall colors, the season also brings in color nights and days. This is the time to start making things cozy and preparing for winter. Bring out your warmer throw blankets, add a few more throw pillows to the couch, and you may even want to consider switching over to flannel sheets on the bed.
The cooler weather may also inspire you to add a few more rugs around the house — especially on any hardwood or tile floors. In addition to the fall colors listed above, you can also add in textures like chunky knits or patterns like plaid to keep things fall appropriate.
Add an Autumn Bouquet
Now that the sunny days of summer have passed, it is time to switch out your centerpieces and flower arrangements for something more seasonal. Fall doesn't meant you have to nix the flowers, however. You will just want to switch them out to something more in the autumn color scheme. Sunflowers are always a solid option, and their buttery brightness will cheer up your Charlotte apartment even on the dreariest fall day.
If you don't want to be bothered buying fresh flowers every few days, you can easily head to a craft store like Michael's and go with artificial bouquets. You may even be able to find a rustic vase that will perfectly compliment your fall arrangement.
Decor for Your Nose
While you are sprucing things up for the season, don't forget to change out the scent of your Charlotte apartment. In the summer, you may have wanted your home to smell like coconut or salty sea air, but now is the time to change out your candles and home fragrances to something a little cozier.
Apples, pine, pumpkin, caramel, and cinnamon are all great scents for the season. You can find home fragrance sprays (or make your own) and candles for relatively cheap at places like TJ Maxx or Marshalls.
Don't Forget the Porch
Even if you added a jack-o-lantern out front, you may want to elevate your entrance even further. A wreath for the door in classic fall colors is never amiss. Plus, you can add a season appropriate doormat. Buffalo plaid in black and white is a fall favorite for many, especially when it is paired with a sisal or hemp rug on top.
If you have the space, you can add a little bench with an outdoor throw pillow that fits your fall theme, and a few dried flowers or pinecones wouldn't hurt either.
Ready for the Season
Now that you have these six fall decor tips, your Charlotte apartment will be ready for the new season. Your home will look, smell, and feel like fall!